Take effective policies to utilise demographic dividend: Speakers
BI Report || BusinessInsider
Published: 18:47, 15 June 2021 Update: 19:38, 15 June 2021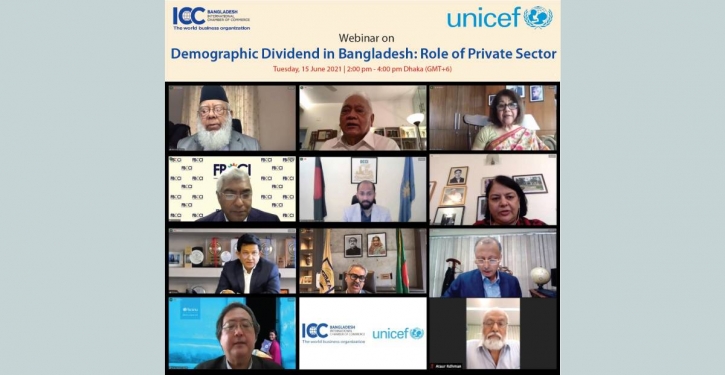 Participants of a webinar titled "Demographic Dividend in Bangladesh: Role of Private Sector" are seen on a screen on Tuesday. Photo: Collected
The government should take effective policies to utilise the demographic dividend­­ Bangladesh is currently enjoying with a higher working-age population (15-64 years old), than the non-working age group, said speakers in a webinar on Tuesday.
"At present, the country has the highest young generation in its history. If we do not take the right policies on time now, this energetic population will become a burden for the country in the next 20-25 years," they said.
The speakers came up with the observations at the webinar titled "Demographic Dividend in Bangladesh: Role of Private Sector" on Tuesday.
UNICEF and the International Chamber of Commerce and Industry, Bangladesh jointly organised the event. Tomoo Hozumi, UNICEF representative in Bangladesh, presented the keynote paper in the programme.
"Bangladesh has achieved a lot in various fields in the last 50 years. But it is going to face a big challenge soon with the growing population," said Hozumi.
"In particular, when the current young population of the country will reach their old ages, feeding and treating them will be a big challenge," he said.
Therefore, specific steps need to be taken to address the future challenges, the UNICEF representative suggested.
The government should ensure the desired quality of education at the primary and secondary levels. At the same time, emphasis should be laid on technical education, he added.
"The policies are necessary not only to increase investment but also to increase the living quality," Hozumi said in his keynote presentation.
ICCB President Mahbubur Rahman, FBCCI President Jasim Uddin, BGMEA President Faruque Hassan, DCCI President Rizwan Rahman,
MCCI President Barrister Nihad Kabir, and CCCI President MahbubulAlam were present at the event.
"The budget allocation for our education sector is still far low what is needed to increase. Besides, qualified teachers should be appointed in the educational institutions", said Jashim.
Referring to the global climate change and Rohingya refugees issue, he said, "We have to move forward with a specific plan."
Besides, a special attention should be paid to the health sector, he added.
Faruque Hassan said two million new faces are being added to the country's job market every year. "But many of them are not properly skilled."
In order to make use of this large population, the government should emphasise technical education, he added.
Barrister Nihad Kabir said everyone in our country now expects a job after graduation. "This mindset needs to change."
"We should try to create entrepreneurs instead of focusing on jobs," she added.
Mahbubul Alam said 80 percent of the employees are currently doing informal jobs. As a result, they remained at high risks.
The government's support for the private sector should be increased to eliminate this risk, he suggested.