$3bn LPG industry at stake for irrational price cut: Operators
BI Report || BusinessInsider
Published: 18:13, 15 June 2021 Update: 20:01, 15 June 2021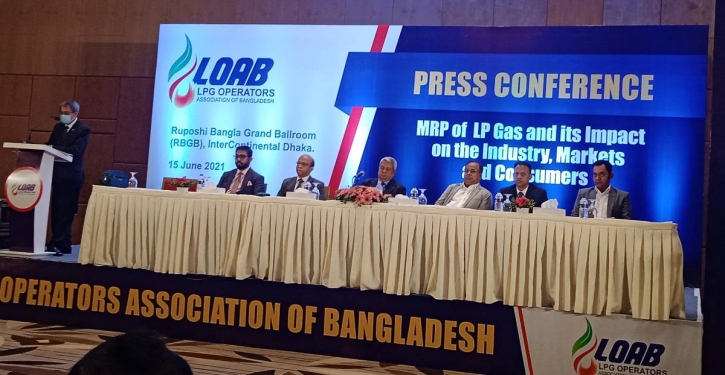 The LPG Operators Association of Bangladesh holds a press conference at InterContinental Hotel in Dhaka on Tuesday. Photo: Business Insider Bangladesh
Companies that are engaged in the business of liquefied petroleum gas (LPG) said the industry will be affected badly if the energy regulator continues to adjust prices the way they have been doing for the last three months.
The LPG Operators Association of Bangladesh (LOAB) expressed their concern at a press conference at InterContinental Hotel in capital Dhaka on Tuesday.
Azam J Chowdhury, chairman of LOAB, said the Bangladesh Energy Regulatory Commission is not capable of fixing the price.
He said the BERC do not have skilled and knowledgeable manpower who can adjudge the price assessing all aspects.
"We don't have any objection to contract prices, which vary in the global market. But the BERC has to consider the fixed costs of the business before setting the price," said Chowdhury, also the chairman of East Coast Group.
Operators have to spend a huge sum of money for cylinders and there are administrative, distribution, transportation and retailing costs. These are fixed costs, which every operator has to spend.
"If the price adjustment goes on this way, survival of the $3 billion industry will be at risk," he added.
Shamsul Haque Ahmed, chief executive of Omera LPG Gas, said, the BERC does not consider the strength of operators while fixing the price. There are some small operators while others are big and their operating costs are not same, he said.
State-owned operator's distribution cost is calculated Tk 50 but the BERC considers only Tk 24 for the same component for private players, although private firms have larger office set-ups and staff, Shamsul Haque said.
Following a recent instruction of the High Court, the regulatory commission has started adjusting the price of LPG at retail level. But the LPG players did not sell at BERC's price at retail market.
Now, more than 40 lakh consumers are using LP gas. Of them, 85 percent are household users and the rest are from transportation and industry.