Indo-Bangla pipeline project faces land acquisition fiasco
Hasan Azad || BusinessInsider
Published: 03:51, 15 June 2021 Update: 04:10, 15 June 2021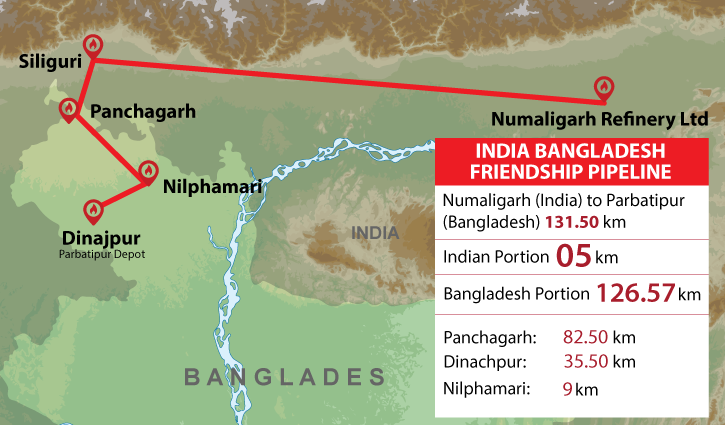 Photo illustration: Business Insider Bangladesh
To implement the India-Bangladesh Friendship Pipeline Project on time has become uncertain as the relevant agencies have been struggling to acquire land.
The construction work of the project began one and a half years ago after Prime Minister Sheikh Hasina and her Indian counterpart Narendra Modi had laid the foundation stone of the project via videoconference in 2018.
"The land acquisition complexity stalled the construction work," Meghna Petroleum Limited (MPL) Managing Director Mir Saifullah-al-Khaled told the Business Insider Bangladesh.
However, he hoped that the project will be completed on time even though the work was halted.
The state-owned oil distribution company MPL, a subsidiary of Bangladesh Petroleum Corporation (BPC), is implementing the project.
The government set June 2022 as the deadline to complete the project. The friendship pipeline is 131.50-km-long stretching from India's Shiliguri Marketing Terminal to Bangladesh's Parbatipur Depot, according to the project.
About 5 km of the pipeline are in India and the rest is in Bangladesh, according to officials.
On the Bangladesh side, 82.50 km will be installed in Panchagarh, 35.50 km in Dinajpur, and 9 km in Nilphamari.
An official said 109 km of the pipe was imported from India. Of the imported pipe, 85 km have been set up and the remaining pipe was welded.
In Panchagarh, the 65 km pipe has been wielded and 45 km has been set up.
The implementing agency wrote to the Department of Agriculture, Forest Tea, and Public Works to acquire 16 acres of land required to set up a 6.53 km pipeline outside the tea garden of Kazi & Kazi Tea Estate in Panchagarh.
In Nilphamari, 5 km of the pipe has already been installed and the work to set up the remaining 4 km has been suspended due to the compensation row over the land acquisition.
Besides, a 7-km pipe with 8 inches radius will be installed to supply oil through the pipeline to Syedpur power station.
Mrs Housing Limited, a consultancy firm, has proposed three routes for laying the 7-km pipeline. Still, routes are yet to be finalised.
Moreover, an agreement with the Pakshi Railway is under process to set up three rail crossings under the project. Land acquisition for 5.31 acre of land to set up a receipt terminal in Parbatipur Upazila of Dinajpur remained uncertain.
If the pipeline project is implemented, oil transportation system loss and costs will be reduced significantly, officials said. The uninterrupted supply of fuel oil in the northern part of the country can be ensured even in the most hostile environment, they said.
The Executive Committee of the National Economic Council approved Tk306.23 crore to acquire necessary land and ancillary facilities development for implementing the project in March 2020.