Tk 5,000cr 'economic shock fund' allocated for 'temporary poor'
Asif Showkat Kallol || BusinessInsider
Published: 22:06, 10 June 2021 Update: 22:06, 10 June 2021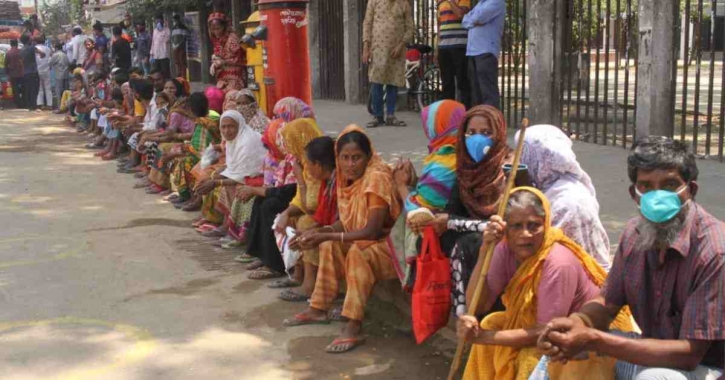 The government has allocated Tk 5,000 crore meant for retrieving jobs for 'temporary poor' and assisting the economy battered by the devastating impact of Covid-19 pandemic. Photo: File
The government has allocated Tk 5,000 crore meant for retrieving jobs for 'temporary poor' and assisting the economy battered by the devastating impact of Covid-19 pandemic.
The government has dubbed the fund as an 'economic shock fund' in the proposed national budget for 2021-22.
An official of the finance division involved with the ensuing national budget formulation process said the allocation, however, was not disclosed in the Finance Minister's budget speech, on June 3.
"But it has been incorporated in the budget documents and headlined as a fund for the 'Temporary poor people' who have lost jobs across the country due to the pandemic," the official who requested anonymity, said.
Refuting claims by the economists that the pandemic has created 'New poor', he said the finance division does not believe in 'New poor' theory. After a cabinet committee meeting on purchase, Finance Minister AHM Mustafa Kamal refused on Wednesday to accept data released earlier by some private research and think tanks in the country, on the 'New poor.'
Mustafa Kamal had said the budget had no weakness and 'to me all are strengths.'
"I don't acknowledge the creation of the new poor," he insisted.
In over a year, the Centre for Policy Dialogue, Brac Institute of Governance and Development, Power and Participation Research Center, and South Asian Network on Economic Modeling (SANEM) conducted several surveys to find out that Coronavirus pandemic contributed to the creation of 'New poor' in the economy.
The economic shock induced by the pandemic has pushed nearly 2.45 crore people or 14.75 percent of the country's population into poverty in a year, reveal the surveys in a nutshell.
Those think tanks said the pandemic caused a significant depletion in the household income and was responsible for a reverse migration of a large number of people towards villages and districts.
"The size of the fund in comparison to the damage the lethal virus has caused to our economy is miniscule," said former finance adviser to caretaker government, Dr AB Mirza Azizul Islam. He told the Business Insider Bangladesh that the size of the outlay of Tk 5,000 crore to mitigate the shock of economy on people was like adding a single drop of water to the ocean.
He said the pandemic affected people need jobs for survival. Mirza Azizul said the government could attract foreign aid by recognising 'New poor.'
Dr Reza Kibra, the former finance adviser to the International Monetary Fund, said the government for the first time recognises the 'New poor' which was created by the pandemic and was labelled by the finance division as 'temporary poor'.
"The government should allocate two per cent of GDP which or about Tk 60,000 crore instead of Tk 5,000 crore to meet the necessities of the poor across the country during pandemic," Reza Kibria opined.