Focus on promoting safer migration for women: Experts
BI Report || BusinessInsider
Published: 15:31, 10 June 2021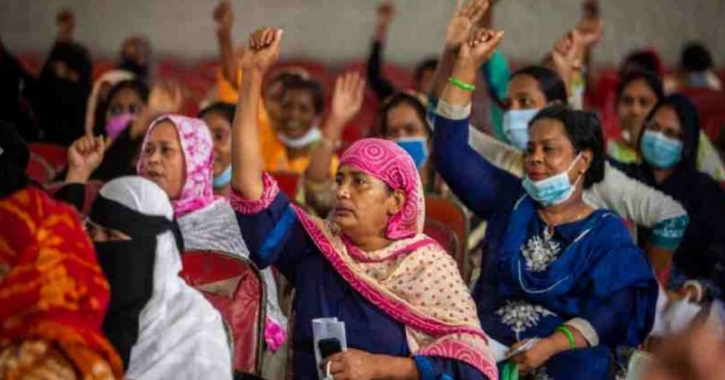 Bangladeshi female migrant workers. Photo: UNB/File
The government should adopt the necessary mechanisms needed to facilitate safer migration for women, migration experts have said.
The recommendation was made at a webinar titled "Online Annual Dialogue on Women Migration with the Relevant Government Officials, CSOs & Stakeholders" organised by WARBE Development Foundation and Care Bangladesh on Thursday.
Speaking at the event, Parliamentarians Caucus on Migration and Development Secretary General Mahjabeen Khaled said that the female migration should be made safer and more secured as they were contributing to the national economy.
Listing several problems faced by female migration home and abroad, she said, "A female migrants returned home with a child whose father was an employer abroad. Such incident must be addressed soon."
WARBE Development Foundation Chairman Syed Saiful Haque said female migration has substantially increased in the current year compared to the last year.
About 28,000 female migrants have gone abroad from January to May 2021 while about 21,000 female migrants went abroad last year, according to him.
Migration expert Jasiya Khatoon, in her keynote paper, said most of the female workers from Bangladesh have gone to work in Saudi Arabia.
"Most of the female migrants who become victims of violence at their family or home are inclined to migrate overseas to secure a better life," she said.
Khatoon complained that female migrants were violated by middlemen in the process of migration and sexually abused by the employer at the destinations.
Ruma, who returned from Qatar, said that she had to pay Tk 30,000 to get a job in Qatar two years back. Her employer forced her to do overwork but paid less, she said. After suffering a lot, she left Qatar leaving 1,600 Qatari Riyal in salary, she said.
Nargis, another woman migrant who returned from Lebanon, said she went to Lebanon with the help of one of her relatives. She had to pay Tk 40,000 for the domestic helper there.
Nargis earned $ 125 per month working from early morning to late night. Before migration, she did not take any training and BMET smartcards from Bangladesh, she claimed.
Hasina Begum returned from Saudi Arabia empty-handed three months into the migration. There was a problem with food, she said.
Ruma Akter who returned from Dubai completing two-year contracts said that she migrated to UAE paying Tk 50,000 to a middleman. My employer was good and had paid regularly, she said.
"But I was not paid over the last two months,' she said.