Bangladeshi workers in Brunei get cheated, offered lower wages
Md Owasim Uddin Bhuyan || BusinessInsider
Published: 11:08, 8 June 2021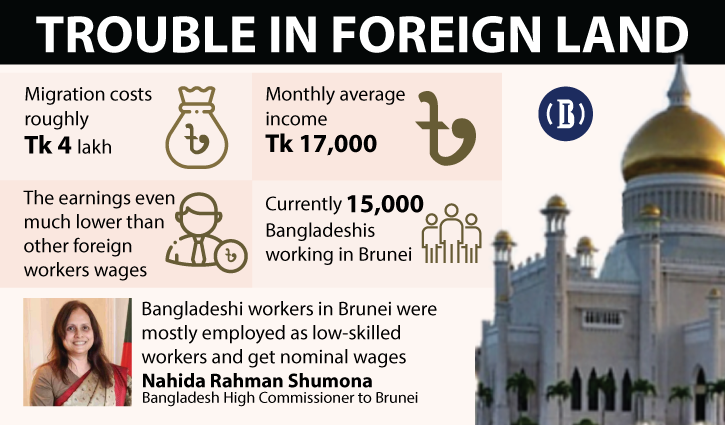 Trouble in Foreign Land
Most of the Bangladeshi migrant workers in Brunei are passing days in very distressed condition as they are earning lower wages than other foreign workers in the country, said officials.
Bangladeshi workers can hardly earn about $200 monthly though they are forced to pay the cost of migration roughly of Tk 4,00,000 each for such poor jobs in Brunei, they said.
As Bangladeshi workers are often recruited against false jobs by some fake companies run by Bangladeshis in partnerships with some Malay or Brunei citizens, on arrival the workers do not find jobs there, the officials said.
The jobless workers of Bangladesh seek help from the Bangladesh High Commission with lots of complaints, they added.
Bangladesh High Commission in Brunei has found that low skilled workers were employed at meagre wages and they were leading very miserable lives there.
It has also found that Bangladeshi migrant workers who were having lack of skill and knowledge about safe migration were being frequently cheated by the rackets of brokers based in Brunei and Bangladesh.
Another group of human traffickers were involved in the process of recruitment of workers from Bangladesh promising high paid jobs in Brunei and ultimately, they were sent to other nearby countries illegally.
The information was revealed at a virtual consultation with officials of the Bangladesh High Commission in Brunei on Sunday with the Business Insider Bangladesh and a few migration experts.
Sharing her views, High Commissioner Nahida Rahman Shumona said that Bangladeshi workers, mostly employed as low skilled workers, are being paid very low wages in the country.
Many of the workers are forced to pay a high cost of migration approximately from Tk 3,00,000 to Tk 4,00,000 each for such low-wage jobs, she added.
The workers were presumably given false information about the jobs and wages, she said.
Bangladesh High Commission's labour attaché Jelal Hossain said that workers of the Philippines earn better wages as they are skilled and recruited under a better recruitment process.
He also said that Bangladeshi workers are often getting cheated by the brokers on their false promise of jobs in the East Asian country.
Replying to a question, under a proposed construction project, there may be opportunities for jobs in the coming days.
About 15,000 workers of Bangladesh are currently employed in Brunei, according to the Bangladesh High Commission.