Home appliance industry eyes boom with 10-year tax holiday
Sanjay Adhikari || BusinessInsider
Published: 22:16, 7 June 2021 Update: 22:20, 7 June 2021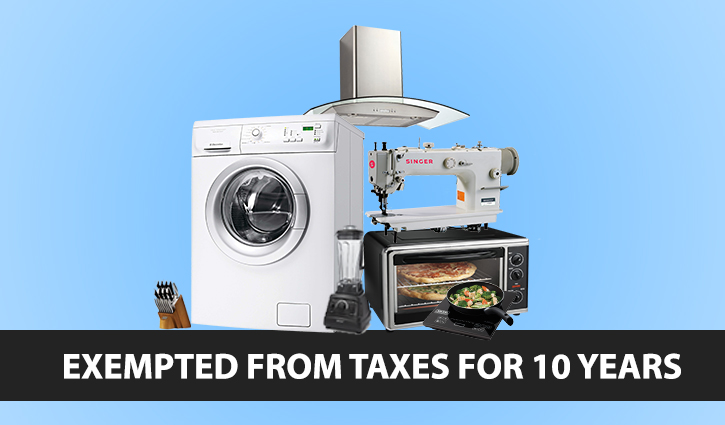 Photo illustration: Business Insider Bangladesh
Local home appliance businesses expect to see a boom with the government offered a 10-year tax holiday in the proposed budget for the fiscal year 2021-22, said insiders.
"It is a very timely initiative. New entrepreneurs will come forward to invest in the industry as they will get the tax benefits," said Uday Hakim, executive director of Walton Hi-Tech Industries.
Such a facility will create a lot of employment opportunities as well, he told the Business Insider Bangladesh.
Uday said many people would be interested in investing in the industry despite the pandemic crisis. "If the government allows such a tax exemption, many will be encouraged to invest their surplus money," the Walton executive director said.
He further said the 10-year tax holiday would not increase profits much, but it would have a significant impact in achieving the country's self-sufficiency and reducing import-dependency for the items.
At present, several companies, including Walton, BRB, Singer, and Minister are producing and marketing various types of home appliance products in Bangladesh, while Walton and BRB Group's Kiam Metal hold the lion market shares.
"Domestic industries are currently meeting most of the demand of home appliance and kitchen hood products," said Mohammad Milon, marketing manager of Kiam Metal.
He told the Business Insider Bangladesh that many local companies are now exporting these products to different countries.
"The tax facility will boost the exports also," Milon said, adding that the offered tax holiday will help the overall sector develop fast.
In the proposed budget for the fiscal year 2021-22, Finance Minister AHM Mustafa Kamal has announced a conditional 10-years tax holiday for companies manufacturing home appliances and light engineering products locally.
The minister placed the budget before the parliament on Thursday.
Later, the National Board of Revenue (NBR), in a statutory regulatory order (SRO), clarified with details about the tax facility.
It said that the government exempted income tax payable on income earned from the production and sales of washing machines, blenders, microwave ovens, electric sewing machines, induction cookers, kitchen hoods and kitchen knives for the next 10 years.
The manufacturing companies, however, must be registered with the Bangladesh Investment Development Authority (BIDA) and they must add at least 30 percent values to these products.
Currently, the leading market player Walton is producing about 50 types of household products in its factory.
On the other hand, Kiam Metal Industries produces more than 60 percent of the total market share of kitchen hood items.