9 Bangladeshi startups named in Forbes' Under 30 Asia list
BI Desk || BusinessInsider
Published: 14:49, 20 April 2021 Update: 15:54, 20 April 2021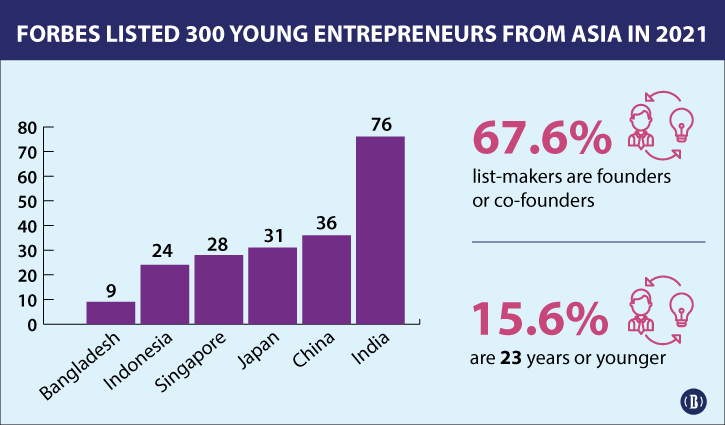 Nine Bangladeshi entrepreneurs have been named in this year's Forbes "30 Under 30 Asia" list, featuring 300 young entrepreneurs, leaders and trailblazers across Asia
Nine Bangladeshi entrepreneurs have been named in this year's Forbes "30 Under 30 Asia" list, featuring 300 young entrepreneurs, leaders and trailblazers across Asia.
Forbes announced the list at its sixth annual publication released on Tuesday.
Forbes said these trailblazers are braving the challenging environment brought about by the Covid-19 pandemic and finding new opportunities amid the new normal.
The Forbes '30 Under 30 Asia Class of 2021' features bright and innovative millennial and Gen Z leaders who have persevered and thrived despite global uncertainty, with 30 honourees selected for each of the 10 categories.
The categories are The Arts; Entertainment & Sports; Finance & Venture Capital; Media, Marketing & Advertising; Retail & E-Commerce; Enterprise Technology; Industry, Manufacturing & Energy; Healthcare & Science; Social Impact and Consumer Technology.
One of the Bangladeshis is Mir Sakib. His Cramstack uses AI to automate extraction of information from unstructured data to provide insights for businesses.
Sakib got the idea to build a search platform that would allow users to search enterprise data sources as easily as a Google search while working at a pharmaceutical company where he struggled to find such data. Cramstack also offers tools to extract and process data from PDFs and images. It has clients in power, finance, manufacturing, healthcare and retail sectors including the government of Bangladesh, BCG, UNDP and National Bank. During the pandemic it provided government data from healthcare workers and immigration officials to help track, and curb, the spread of the coronavirus. It has raised over $1 million from Rockstart (Netherlands), Grameenphone (unit of Telenor) and angel investors.
Rizvana Hredita, 28, and Md Zahin Rohan Razeen, 22, are cofounders of Hydroquo+, a Dhaka-based startup that uses AI to improve water management. Founded in 2018, Hydroquo+ has developed systems and technology to detect anomalies in water and analyze water quality. The company also consults for government agencies and NGOs on water-quality modeling. In September, Razeen, CEO of Hydroquo+, was named one of the United Nations' 17 Young Leaders for the Sustainable Development Goals who are leading efforts to combat the world's most pressing issues.
Ahmed Imtiaz Jami, 27, is the founder of Obhizatrik Foundation. Jami founded it in 2010 to work on poverty elimination, education, health and nutrition, human rights and the environment. In the past decade it has supported more than 1 million people and provided free education to 500 underprivileged children in three schools, empowered 550 families in seven districts, and provided free treatment for 10,000 patients. It runs a free school and also has a grants program to help poor families set up a business that can be their source of income for the long term. During the pandemic it donated free vegetables to 200,000 individuals, as well as free groceries to 65,000 families and free meals to 90,000 families. For this work it raised $235,000 from government ministries as well as corporate donors such as Standard Chartered Bank.
Rijve Arefin, 26, Shomy Chowdhury, 26, are cofounders of Awareness 360. After losing her mother in 2014 due to complications from severe diarrhea, Chowdhury took action to raise awareness about clean water, sanitation and hygiene. She and Arefin, who Chowdhury met later that year, cofounded Awareness 360 to bring together young people wanting to improve the lives of others. The Kuala Lumpur-based NGO now has 1,500 volunteers in 23 countries who hold talks and workshops on handwashing, water-filtration methods and personal hygiene, among other environmental initiatives. So far, their campaigns have involved over 150,000 people. The duo's work has been recognised by the UN Development Programme, among other international groups.
Morin Talukder, 27, is the cofounder of Pickaboo. Five years ago Talukder cofounded the Dhaka-based online store that sells everything from mobile phones to home appliances, apparel and makeup. Pickaboo was one of the first online retailers in Bangladesh to introduce a monthly installment payment plan, same-day delivery and a customer membership program, and it now plans to open 150 physical stores across the country by the end of 2021. It has raised over $6 million from investors in Bangladesh and India. Previously Talukder set up the e-commerce site ehaatbazaar.com, which he sold to his cofounder in 2016.