Female migrants forced to pay Tk1.5 lakh: study
Md Owasim Uddin Bhuyan || BusinessInsider
Published: 03:59, 3 April 2021 Update: 23:18, 13 June 2021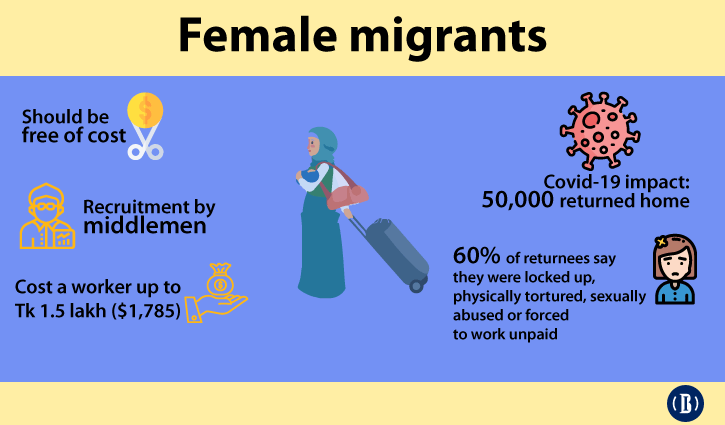 Photo: Business Insider Bangladesh
On paper, a Bangladeshi female who wants to go to a Middle Eastern country for work, doesn't need to spend a penny, but the reality is different.
The female migrant workers have been forced to pay a maximum recruitment fee of Tk 150,000 ($ 1,785) for each overseas job, according to a study revealed on Wednesday.
Ovibashi Karmi Unnayan Program (OKUP) conducted the survey and found about 65 percent of female migrants paid Tk 5,000 to Tk 150,000 ($ 60 to 1,785), though they were supposed to be recruited at free of cost.
Titled "Access to Justice for Bangladeshi Migrant Workers: Improving the System," the survey studied 262 returnee women and girl migrants across the country.
"About 95 percent of women said that they were recruited by unauthorised sub-agents or sub-sub-agents," OKUP chairman Shakirul said while unveiling the study report.
He said women migration is increasing every year and at present, it stands at 15 per cent of the total overseas migration from Bangladesh.
Apart from the monetary fraudulence, the women migrants often face different types of mental and physical tortures, right violations and huge sufferings in working abroad.
Shakirul suggested that such returnees should have access to justice.
"Women migrants were often cheated by middlemen who charged the illegal fees from them," Bureau of Manpower, Employment and Training (BMET) Deputy Director Masud Rana said in the programme.
In a separate event last Thursday, Expatriates Welfare and Overseas Employment Minister Imran Ahmad said that the high cost of migration and fraudulence in the recruitment process emerged as big challenges in Bangladesh.
He urged all stakeholders to play their respective roles to address the irregularities.
The minister mentioned that the government was providing financial assistance to returnee women migrants to help them reintegrate into society.
The OKUP study found that 60 percent of returnee women migrants were locked up, physically tortured, sexually abused or forced to work unpaid.
Due to the abuse and exploitation at their workstations, the study reported, about 58 per cent of women migrants had to return home within 12 months of their departure.
Chairman of the Parliamentary Standing Committee on expatriates' welfare and overseas employment ministry Barrister Anisul Islam Mahmud MP attended the report-launching programme as chief guest.
He said that migrants have been playing an important role in supporting the national economy even amid the pandemic and recession. The rights of the migrant workers should be protected at any cost, he said.
"Recruitment agencies use middlemen to hire workers from grassroots," he said, adding that the agencies should take the responsibility first.
The authorities should monitor the activities of recruiting agencies, said Mahmud.
Besides, Arbitration should be extended to the Upazila level to settle the migrants' cases speedily, he noted.
The OKUP study also recommended the introduction of a comprehensive arbitration rule, establishing a separate arbitral tribunal, decentralising the tribunal, ensuring proportionate compensation and improving the skills and capacity of arbitrators, concerned officials and judges.
Bangladesh Nari Sramik Kendra (BNSK) executive director Sumaiya Islam said that no government mechanism can give proper information about the grassroots migrant workers.
"The migrants are fully dependent on brokers," she said, adding that the brokers should be brought under a process.
As per government data, over 50,000 female workers who were in different countries especially in the Middle East ones have returned home amid the Covid-19 pandemic.
In such a situation, the ministry targets to provide Tk 20,000 financial support to each of the 3,000 returnees until June so that they can run small businesses, said officials.
Migrant rights campaigners urged the government to ensure an ethical recruitment system so that women could migrate abroad without paying any cost.