Initiatives taken to make sugar mills profitable: Industries Secretary
BI Report || BusinessInsider
Published: 14:06, 24 September 2023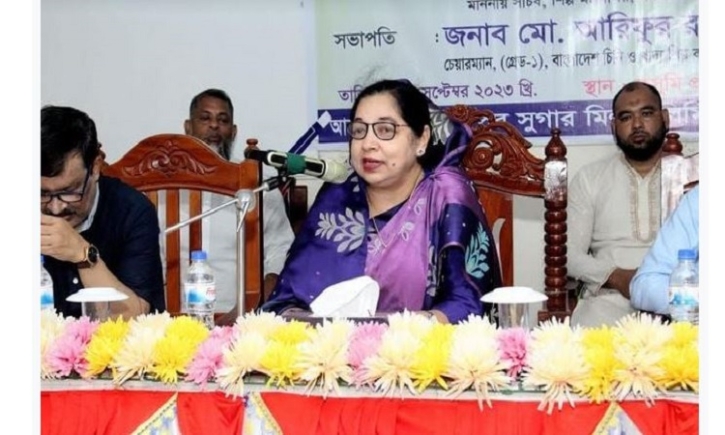 Photo: Collected
Industries Secretary Zakia Sultana today said that initiatives have been taken to make the country's sugar mills profitable.
She said emphasis is being given not only relying on sugar production but also on making products through using the by-products, reports BSS.
The Industries Secretary informed that the government is also thinking about joint ventures with local and foreign entrepreneurs in this regard.
Zakia said this while speaking as the chief guest at a view-exchange meeting with sugarcane farmers, workers and officials to increase quality sugarcane production and yield held at Faridpur Sugar Mills training building at Madhukhali in Faridpur district.
Presided over by the Chairman of Bangladesh Sugar and Food Industries Corporation (BSFIC) Md Arifur Rahman Apu, Deputy Commissioner of Faridpur Kamrul Ahsan Talukder spoke as special guest in the event.
The Industries Secretary said many initiatives have been taken to bring back the good days of sugar industry.
"To encourage farmers to grow more sugarcanes, the price of sugarcane has been increased to Taka 220 for per maund or 40-kg of sugarcane. In the upcoming 2023-24 season, Taka 240 will be given to the farmers for per maund of sugarcanes," she added.
She further said the government is providing good quality sugarcane seeds and fertilizers to the farmers to bring back the glory of sugar industry.
Zakia said 'Bandhu Seba' apps have been launched in which about 65,000 sugarcane farmers are connected. As a result of this, the farmers are getting necessary instructions.
Calling upon all concerned to turn the Faridpur Sugar Mills, established in 1974, into a profitable entity, the Industries Secretary said this sugar mill is built by Bangabandhu. "If everyone works together according to the properplan, then we hope to reach our goal."