US bilateral trade with Bangladesh increases $14bn: US commercial counselor
BI Report || BusinessInsider
Published: 21:05, 21 September 2023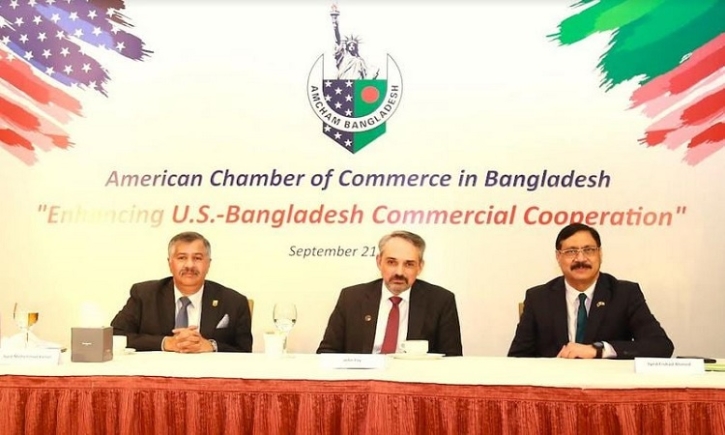 Photo: Collected
US bilateral trade with Bangladesh increased dramatically over the last one decade as it already reached $14 billion.
John Fay, Commercial Counselor, Foreign Commercial Service, US Department of Commerce, US Embassy, Dhaka said this while addressing a function held in Dhaka on Thursday.
"In the last decade, the expansion of bilateral trade has taken place dramatically. However, trade between the two countries is confined to a limited number of products. There are opportunities to expand trade through reforming some financial policies and increasing US investment as well as increasing newer products," he said.
BSS adds: Fay was addressing the regular monthly luncheon of the American Chamber of Commerce in Bangladesh (AmCham) as the guest of honor and speaker and spoke on "Enhancing US-Bangladesh Commercial Cooperation" AmCham President Syed Ershad Ahmed, Vice President Syed Mohammad Kamal, members of the chamber including the executive committee members, and former presidents, foreign dignitaries, business leaders, media representatives and other distinguished guests attended the meeting.
The US diplomat said Bangladesh's exports are mainly based on clothing while the US exports a few products like steel and agriculture.
"But, there are huge opportunities for businessmen of the two countries to work together and increase trade in healthcare, IT, education, energy and trade infrastructures," he added.
Fay suggested for bringing reforms in some areas of Bangladesh's investment, revenue policy and intellectual property rights related laws as well as on infrastructural development.
John Fay said Bangladesh's growing middle class has created new opportunities for U.S. companies with existing demand in healthcare, education, consumer goods and franchising, among other sectors. "Bangladesh may become an important South Asian market for the US in the future," he cited.
The Commercial Counselor of the US Embassy in Dhaka said that the United States has opened the Foreign Commercial Service Office or FCSA in Bangladesh whose main task is to encourage American companies, especially small and medium companies, to do business in Bangladesh.
He said, "We have more than 100 offices in the United States. We are regularly counseling American companies to enter new markets," adding if a Bangladeshi company wants to import any specific product, service or technology from the United States, then FCSA would create a link with the related manufacturing company.
In response to a question whether the United States government would provide duty-free benefits for the export of Bangladeshi products, he said it was beyond his knowledge.
Leaders of various business organizations, economists and civil society representatives were present on the occasion.