US investors seek tax exemption in agriculture, service, energy sectors: Finance minister
BI Report || BusinessInsider
Published: 16:46, 31 August 2023 Update: 16:59, 31 August 2023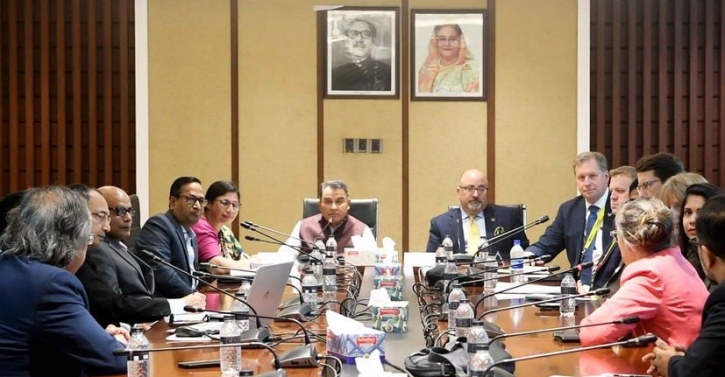 Photo: Collected
Investors from the United States (US) have requested the government for tax exemption in various sectors, including agriculture, service, energy and other sectors to expedite their investment in Bangladesh.
Finance Minister AHM Mustafa Kamal was addressing a press conference after emerging from a meeting held with a delegation of the US Bangladesh Business Council now visiting Dhaka at his ministry office on Thursday.
The government has already exempted tax in various sectors in response to the foreign investors' call for their business profit in Bangladesh, said the finance minister.
Responding to a query in this regard, Kamal said the government has done whatever is necessary to meet their demand for boosting improvement in the country's employment sector.
The US investors are also keen to invest in the country's agriculture, power, gas and other sectors, Kamal told a questioner.
Claiming that a business-friendly atmosphere is prevailing in the country, Kamal said there is no chance of incurring losses after investing here as Bangladesh is suitable place for doing business.
If the 'Made in Bangladesh' concept could be promoted further among the foreign investors, then the country would progress further while the investors would be benefitted more, he said.
"We want to generate more employments in the country through materialisation of this concept," he said.
About the country's inflationary situation, he said the country's inflation rate was 12.3 percent when Awami League took charge and it declined to nine percent. But now the annual inflation rate stood at 7.5 percent, he said.
Amid the global volatile economic situation, the country's present inflation stood at 7.5 percent, said the finance minister.
Kamal said the prices of commodities are increasing gradually due to the adverse impact of the Russia-Ukraine war and no one knows when the war will come to an end.
Despite this, the country's economy is doing well and everyone says that Bangladesh is doing better than everyone, said the finance minister.
BSS adds: Economic Relations Division (ERD) Secretary Sharifa Khan said that the US investors have expressed their interest in production and export of soybean oil to Bangladesh.
She said the main interest of the US investors is the Bangladesh's agriculture and services sectors.
She said VISA, which deals with cashless transactions in the country, sought incentives as well as sought the US investors sought tax exemptions in merchant payments.
Citing a survey, the ERD secretary said that the US investors mentioned that Bangladesh would be the 9th largest consumer market in the world by 2030 and they want to be a partner in this journey of growth.
Representative of Met Life, which has been operating in Bangladesh's insurance sector for the last 72 years, said that Bangladesh is now the best destination for making investment.
President of US-Bangladesh Business Council Atul Keshap and CEO of Excelerate Energy Steven Kobos were present, among others, at the meeting.