52 startups get Tk 7cr through BIG contest
BI Desk || BusinessInsider
Published: 20:43, 17 June 2023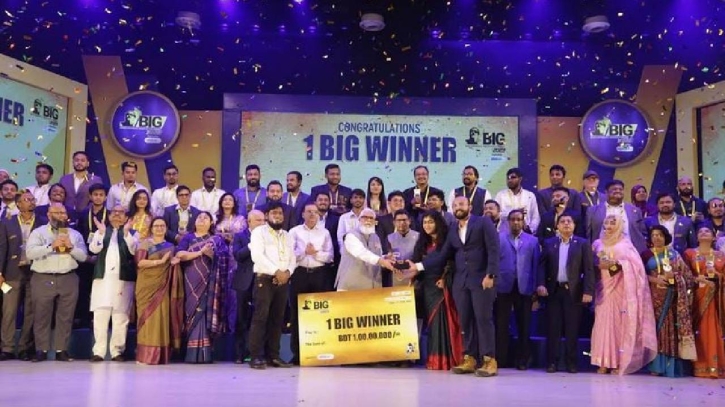 Photo: Collected
The top 52 startups, selected through the 'Bangabandhu Innovation Grant (BIG) 2013' competition, received Taka 7 crore at the grand finale at Osmani Memorial Auditorium in Dhaka on Saturday.
Taka 2 crore was given to the two startups - Fabrik Lagabe Ltd. and Markopolo.ai, which secured the first position jointly at the grand finale, while Taka 5 crore was given to the rest 50 startups, said a press release.
Taka 1 crore was given to each of the champions of the BIG-2023 competition while each of the top 50 startups was given a grant of Taka 10 lakh.
The Innovation Design and Entrepreneurship Academy (iDEA) Project of Bangladesh Computer Council (BCC) under the ICT Division organised the BIG competition for the 3rd time to inspire young entrepreneurs, aiming at developing a startup ecosystem in the country.
Prime Minister's Private Industry and Investment Adviser Salman Fazlur Rahman was present at the grand finale of the BIG-2023 as the chief guest and distributed grant money while State Minister for ICT Division Zunaid Ahmed Palak was in the chair.
ICT Division Secretary Md Shamsul Arefin was present as the special guest at the programme while BCC Executive Director Ranajit Kumar and Startup Bangladesh Limited Managing Director Sami Ahmed were also present at the event, among others.
iDEA Project Director (joint secretary) Md Altaf Hossain delivered welcome speech at the programme.
Speaking on the occasion, Salman Fazlur Rahman said many people could not believe that Bangladesh would be transformed into a digital country.
"But we made it possible. Currently, we are working to build the 'Smart Bangladesh' taking the country's status to higher position from the digital one," he added.
Noting that the government's job is to create a favourable environment and give opportunities to the private sector, the PM's private industry and investment adviser said, "We can, if we get the right environment".
Addressing the function, Zunaid Ahmed Palak said 'Digital Bangladesh' is the outcome of everyone's collective efforts.
"We have funded nearly 400 startups from iDEA projects in 10 years from the beginning of 2015. About 30 percent of these startups are still alive and struggling while about 10 percent of these startups advanced to the pre-seed and growth stages," he added.
Noting that the BIG was launched with three specific goals- building innovation ecosystems and building entrepreneurial supply chains, and developing startup cultures, Palak said, "To implement these goals, we are going to finalise the startup policy".
"Our aim is to establish another 5-billion-dollar company by 2025 as well as create employment for three million young women in the startup sector," he added.
This year, 6,846 startups and innovators applied to participate in the BIG contest following the nationwide campaigns of the competition organised with the slogan 'Dare to Stand Big' while 224 startups were selected for the online pitching round.
Through the online pitching round, 103 startups were selected for a three-day boot camp held at Sheikh Hasina Software Technology Park in Jashore from June 9 to 11 this year while finally 52 startups were given the grant of 'Bangabandhu Innovation Grant (BIG)' through the grand finale today.
The top 50 startups apart from the two champions- Fabrik Lagabe Ltd and Markopolo.ai (Marketeer AI Ltd.)- are: AgriSmart, Ant Suite, Aqualink Bangladesh Limited, Ayykori Digital Limited, Bangla Iskool BD Limited, Bazar365 Limited, Cardicare, Chaad Bazar, CHECKBOX, Deshifarmer Limited, DGarma, DocTime Limited, Drip Irrigation BD Ltd., E-Irrigation, E-Ostaad, Easy Go, EduAssist: The Future of Inclusive Education, engaze, ePolli, FARMSHOUSE BD, G-Widgets Smart Energy Management System (SEMS), Gramshop, Hishabee Technologies Limited, Inkam, Interactive Cares, JRC Board, Krishi Shwapno, LILAC, Maverick Innovation, MIMBA, MommyKidz Ltd., More Tech BD, Niramoy Healthtech, Robotry Bangladesh, RyoGas, SASTHYA SEBA, Shalbrikkho Ltd., Shomvob, SHOTHIK AI, Sokrio Technologies Ltd., SOLshare [SOLmobility], StufBase Limited, TechRev 4.0: Smart Factory (Teknovus Limited), ToyLend, TOYO, VR Bangla, Wander Woman, WASTE Bangladesh, YOUR Campus, and Zaynax Health Limited.