Tea industry must provide its workers with welfare: Commerce minister
Published: 09:28, 4 June 2023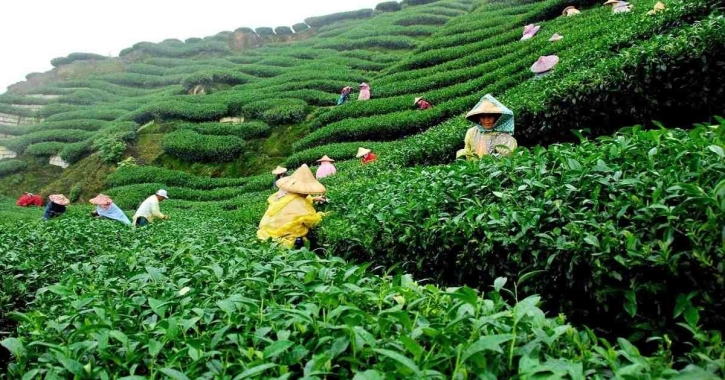 File photo
Commerce Minister Tipu Munshi has urgedplm all concerned, including tea garden owners, to build a worker-friendly tea industry.
He made the call at a press briefing organised byq Bangladesh Tea Board at the Tea Resort and Museum conference room at Sreemangal in Moulvibazar on Saturday afternoon.
This year, the main event of The National Tea Day has been organised at Sreemangal in Moulvibazar, known as the capital of tea, with the direct stakeholders including tea garden owners and workers associated with the tea industry, said the minister.
The commerce minister then announced the names of the awardees in eight categories of the "National Tea Awards" launched for the first time in the country.
Here is the full list of the winners:
1. Highest producing tea garden per acre: Rented tea garden. 2. Highest quality tea producing garden- Madhupur tea garden. 3. Best tea exporter- Abul Khair Consumer Products Ltd. 4. Best Small Tea Grower - Md Anwar Sadat Samrat (Panchagarh). 5. Best tea garden for workers welfare - Jerin Tea Garden. 6. Best organization/company - Kazi and Kazi Tea Estate Limited on the basis of marketing of diverse tea products. 7. Best tea company - Green Field Tea Industries Limited on the basis of beautiful and quality tea wrapper. 8. Best tea leaf chooser (tea worker) - Uplakhi Tripura, Neptune Tea Garden.
The awards will be distributed later.
During the program, the minister while replying to a question from a journalist, said necessary measures are being taken for the extraction, production and marketing of tea leaves keeping the quality of tea intact Special surveillance is being maintained in this regard, he added.
About the reason for the increase in tea production, the commerce minister said tea production is more than before in the tea gardens in the country.
Besides, tea is being produced in the northern part of the country, especially Panchagarh, with almost19 percent of the total production. Due to this, tea production is increasing day by day in the country.
At present, there is a demand for 90-95 million kg of tea in the country. The commerce minister said demand can be met through tea produced in the country. The country is expected to produce more than 100 million kg of tea this year, he said.
Chairman of Bangladesh Tea Board Major General Md Ashraful Islam NDC, PSC, senior officials of the ministry and heads of various institutions under the Ministry of Commerce were present on the occasion.