FY 2023-24 budget: Implementation to be challenging but it's time befitting, says ICAB
Published: 17:20, 3 June 2023 Update: 17:21, 3 June 2023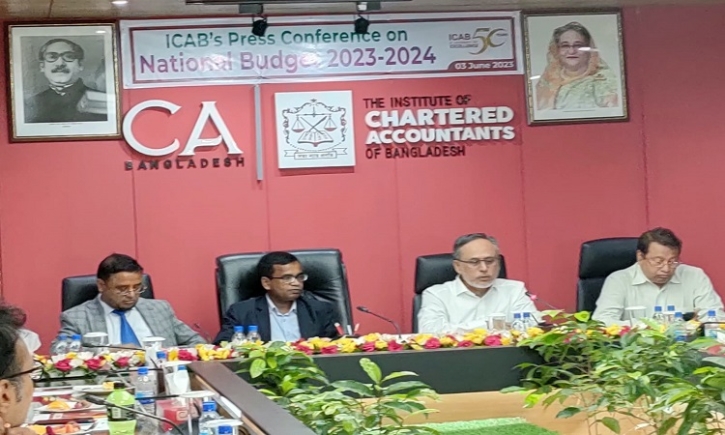 Photo: Collected
Institute of Chartered Accountants of Bangladesh (ICAB) has called the proposed FY 2023-24 budget time befitting.
ICAB, an association of professional chartered accountants, said this today at a press conference on 'National Budget 2023-24', held at CA Bhaban in Dhaka's Karwan Bazar.
Md Moniruzzaman FCA, president of ICAB, in a written speech said that though achieving the proposed GDP of 7.5 percent and implementation of the budget are challenging due to the ongoing global economic crisis, it is the demand of the time for Bangladesh's economy to achieve growth.
He said the government has to take more initiatives to enhance the tax-GDP ratio along with increasing the technical capacity of the National Board of Revenue (NBR).
Despite the Russia-Ukraine war, higher inflation, forex crisis, price hike of essentials, and stagnant investment- employment, the budget kept an allocation of Tk 2.77 lakh crore for the development sector, Moniruzzaman observed.
The implementation of the development budget is challenging, but it will help to create new investment and employment, he said.
Replying to a query, the ICAB president said the minimum tax of Tk 2000 will not create social discrimination as it is not obligatory for all. Only those who require proof of tax return, will take the document depositing the minimum tax of Tk 2000.
He pointed out that there are around 87 lakh TIN (tax identification number) holders in the country but less than half of them filed tax returns.
Moniruzzaman thanked Finance Minister AHM Mustafa Kamal for mentioning the NBR and ICAB's contribution to implement the document verification system (DVS), which will help in boosting revenue collection.
The ICAB praised the finance minister for adding the recommendations of chartered accountants in the budget including environment surcharge, products' online sale definition for ease of doing business, 5 percent VAT exemption for importing alternative products, import duty increase on some products to safeguard local industry, clarifying in tax rebate definition and making obligatory bill of entry for releasing bonded products. Snehasish Barua gave a presentation of the government tax exemption and overall tax situation and the budget proposal. Md Yasin Mia, Md Humayun Kabir FCA, Shubashish Bose, among others, were present at the press conference.