Govt moves to remove discrepancies in primary fuel import duties: Nasrul
Published: 21:41, 29 May 2023 Update: 21:43, 29 May 2023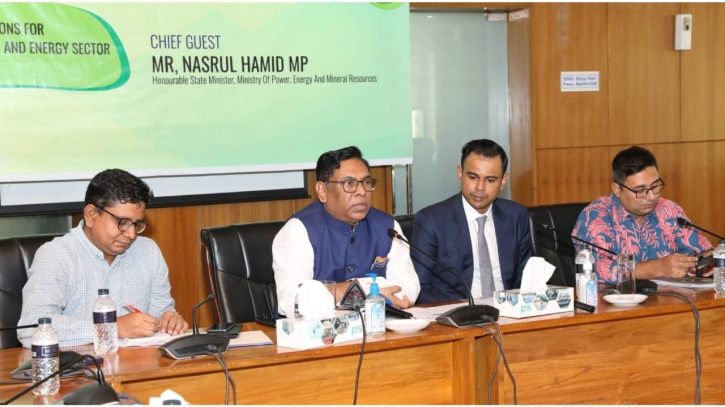 Photo: Collected
State Minister for Power, Energy and Mineral Resources Nasrul Hamid said on Monday that measures are being taken to remove the discrepancies in the import duties of primary fuels.
"We've already approached the National Board of Revenue (NBR) to remove the discriminations among the duty structures of the primary fuel imports" he told a seminar titled: "FERB Dialogue: Budget FY 2023-24, Challenges and Expectations".
Forum for Energy Reporters Bangladesh (FERB) and Bangladesh Independent Power Producers Association (BIPPA) jointly organised the seminar at Bidyut Bhaban in the city on Monday.
BIPPA vice president Moazzem Hossain in a presentation showed that there are huge anomalies in the duty structures of the import of primary fuels.
"The import duty on coal is 5 percent while it is on furnace oil is 34 percent and on the gas import is 22 percent. This is a huge inconsistency that actually leads to a discrimination against the furnace oil-based power generation", he said.
Responding to this claim, Nasrul Hamid said the ministry will send a summer to the Prime Minister's Office (PMO) to consider the idea of a unified tax structure.
"There should be a need for reducing the import duty on gas and adjusting import duty structure on the gas and the coal", he added.
He also said the government will not go for price adjustment of power or energy as it is an election year. But there is scope for import duty adjustment on primary energy.
He also noted that the main challenges in the power and energy sector is ensuring affordable, reliable and uninterrupted supply of energy and power.
With FERB chairman Shamim Jahangir in the chair, the seminar was also addressed by BIPPA president Faisal Khan, eminent energy expert Prof Ijaz Hossain and Power Cell director general Mohammad Hossain.
FERB executive chairman Rishan Nasrullah conducted the function.
Addressing the function, eminent energy expert Prof Ijaz Hossain said the prices of gas and coal have come down to a lowest level in recent days as the import price of gas is at $8 per unit on the international spot market while the per tonne of coal is $130.
"I can't understand why in such a favourable situation the government cannot generate adequate power to meet the needs… how much more favourable the situation should need", he added.
BIPPA president Faisal Khan said that the private sector's outstanding bills with Bangladesh Power Development Board (BPDB) is going up day by day.
The BPDB should now efficiently allocate demand for power generation on the basis of merit order, he said, adding the government should look into the matter of clearing the unpaid bills of the IPPs.
Power Cell director general Mohammad Hossain the government has taken measures so that about 2000 MW of electricity can come from solar power in the next two years.