Qatar's Emir promises larger supply of LNG to Bangladesh
Published: 21:48, 24 May 2023 Update: 22:09, 24 May 2023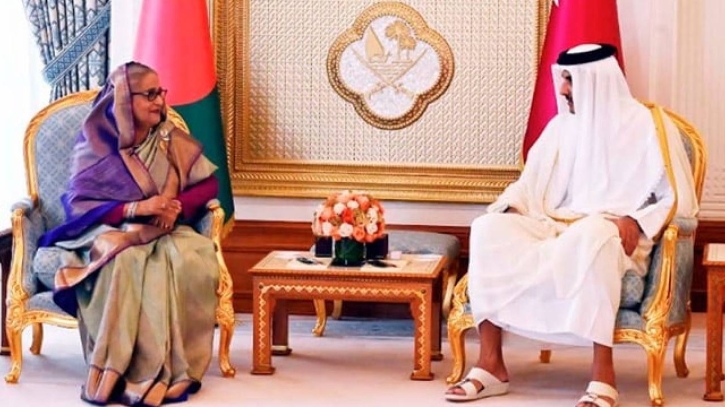 Photo: Collected
The Emir of Qatar on Wednesday assured Bangladesh of providing all sorts of facilities to Bangladesh regarding larger supply of LNG from his country.
"I promise you that I, being the Emir, will provide all sorts of facilities to you as you are a friendly country," Emir Sheikh Tamim Bin Hamad Al Thani was quoted as telling Prime Minister Sheikh Hasina during a meeting at Emiri Diwan in Doha.
The two leaders also discussed different issues of bilateral cooperation on energy, business, investment, Bangladeshi manpower as well as Muslim Ummah and development of Bangladesh.
"This meeting was held in a very warm environment," said Foreign Minister AK Abdul Momen at a press briefing.
About energy, the Emir said the negotiation of signing a new contract over the larger supply of energy from Qatar to Bangladesh remains pending for a few months.
Momen said it (the promise) is a big achievement for Bangladesh, adding that this fresh contract might be signed anytime soon.
Now Bangladesh is importing some 40 containers of energy that means 1.8-2.5 MTA as per a 15-year contract signed in 2017. But now Bangladesh seeks the larger supply of LNG from Qatar.
Praising Hasina's leadership, the Emir of Qatar said that they once knew that Bangladesh was a disaster and poverty-stricken country. But when Sheikh Hasina came to power, she removed the food deficit in Bangladesh.
In this context, the prime minister said her government brought down the poverty rate to 18.5 percent from 41 percent and the extreme poverty rate to 5.6 percent from 25 percent in the last 14 and a half years. "I've made Bangladesh free from poverty. Poverty is a curse," she was quoted as saying.
PM Hasina said she has the only goal to turn Bangladesh into a developed country as dreamt by her father (the Father of the Nation Bangabandhu Sheikh Mujibur Rahman).
"We've progressed to some extent. But my work has not finished. I want to work more. But I alone can't do it. I seek your assistance. I need more investment. I have opened my country. You can come with investment for mutual benefits," she told the Emir.
Sheikh Hasina invited the Emir of Qatar to visit Bangladesh, if possible within this year.
In response, the Emir said he would definitely visit Bangladesh.
Talking about the Muslim Ummah, the PM said the Muslim countries get engaged in conflicts on trivial matter in some cases, which is a barrier for the unity of the Ummah.
She requested the Emir of Qatar to work for the unity of Muslim Ummah for the development of the world Muslim community.
In reply, the Emir said he may not be able to make the Muslim Ummah united, but he will endeavour in this regard.
About the fear of losing jobs among Bangladeshi workers in Qatar, the Emir said 370,000 Bangladeshis are currently here and they are blessings for Qatar. Qatar is going to take new projects and the Bangladeshi people will stay here and they are industrious and working sincerely. "We're very happy with Bangladeshis," he was quoted as saying.
Momen said the meeting was very warm. "This is a significant thing. He received her from her car," he said.
Later, the prime minister visited Awsaj Academy, a specialised school for the children with special needs, which runs under Qatar Foundation here in Doha.
Hasina visited several classrooms of the academy. There are some 500 students aged from 3 years to 25 years and 185 teachers in the Awsaj Academy Artworks drawn by its students were presented to the Bangladesh prime minister. She also gifted four artworks drawn by Bangladeshi autistic children to the academy.
At the time, the PM sought assistance from Qatar over training for teachers of such schools and early detection of autistic children in Bangladesh.
The authority assured that they can train Bangladeshi teachers through a virtual platform, said Momen.