Hydrocarbon Unit signs MoU with BUET to enhance research in energy sector
Published: 09:58, 28 March 2023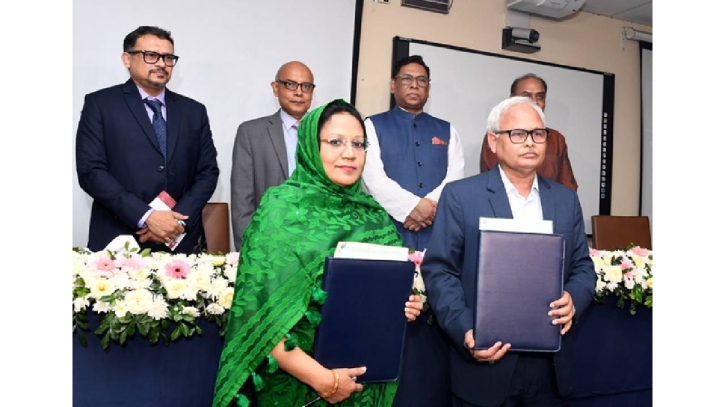 Photo: Collected
The Hydrocarbon Unit of the Energy and Mineral Resources Division has signed a memorandum of understanding (MOU) with Bangladesh University of Engineering and Technology (BUET) to enhance research and capacity building in the country's energy sector.
The two organisations signed the deal at a function at BUET on Monday where State Minister for Power, Energy and Mineral Resources Division Nasrul Hamid was present as chief guest.
Welcoming the agreement, the state minister said that this will help the Hydrocarbon Unit to prepare accurate data and a proper plan for the energy sector.
The MoU will also expand the field of research in the energy sector, he said.
"Coordinated initiatives are necessary to ensure a sustainable energy system," Hamid added.
He underscored the need for a coordinated network of researchers, academics and professionals to make a plan successful.
Success will certainly be achieved if the planning and activities are carried out by estimating the needs of the future, he added.
With BUET Vice-Chancellor Professor Satya Prasad Majumdar in the chair, the event was also addressed, among others, by Energy Secretary Dr Md Khairuzzaman Majumder, BUET Vice-Chancellor Professor Abdul Jabbar Khan, Energy and Sustainability Research Institute Director Professor Farsim Mannan Mohammadi and Director General of Hydrocarbon Unit Tahmina Yasmin.