Shark Tank India: How a start-up in Kashmir is inspiring thousands
BI Desk || BusinessInsider
Published: 10:25, 14 March 2023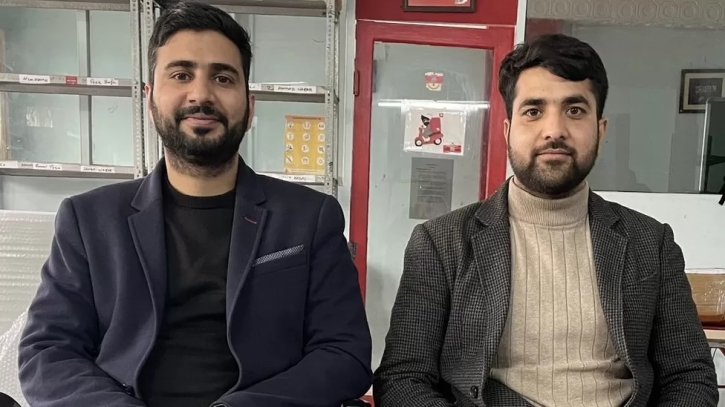 Photo: Collected
A start-up from Indian-administered Kashmir has raised funding on reality show Shark Tank India, boosting hopes for other budding entrepreneurs from the region. Auqib Javeed met the men behind the company.
FastBeetle - a courier delivery service based in Kashmir - raised 900,000 rupees ($10,970) on the Indian version of the show, where entrepreneurs present their product or service to a panel of investors or "sharks", who then decide whether they want to invest in their companies or not.
The company's founders Sheikh Samiullah and Abdul Rashid, had applied to Shark Tank on a whim after seeing an advertisement about the show on LinkedIn, reports BBC.
Theirs is the first company from Kashmir to raise funding on the popular TV show, prompting one of the judges to ask why he hadn't seen more entrepreneurs from the region.
"We don't have such facilities. There aren't people like you [Shark Tank judges] who can support us, that is why people in Kashmir are dependent on employment," Mr Samiullah answered.
Mr Samiullah and Mr Rashid now hope that the funding they will receive will encourage more young people in Kashmir to start their own businesses.
The Himalayan region of Kashmir has been a sensitive area as it is hotly contested by India and Pakistan, who claim it in full but rule over parts.
For more than three decades, separatist militants have carried out an armed rebellion against India's rule in the region. India has blamed Pakistan for backing these militants, a charge Islamabad denies.
In August 2019, the BJP-led government revoked Article 370 - a part of the Indian Constitution that guaranteed significant autonomy to the Muslim-majority Jammu and Kashmir state - and downsized it into two federally-administered territories.
The announcement was followed by internet shutdowns and curfew-like conditions that lasted for several months and thousands of additional troops were deployed to deal with situations of unrest.
At the time, the Indian government had said that the revocation of special status for the region was necessary for economic development, but official figures show that investments have declined in the past four years.
Officials, however, insist that things are getting better and the region is witnessing "a boom" in local start-ups.
Aijaz Ahamd Bhat, director of Jammu and Kashmir Entrepreneurship Development Institute (JKEDI), says the government is working on "J&K Startup Policy 2023-2028", which aims to facilitate the setting up of 3,000 start-ups in the region in the next five years.
He said that this would help create jobs and boost the region's economy. "The policy was already there but we couldn't implement it due to some issues, and then the pandemic. Now we are amending it with the help of experts and a new policy will be in public in coming weeks."
Mr Samiullah and Mr Rashid started FastBeetle in 2019, just six months before the abrogation of Article 370. Before starting his own business, Mr Samiullah used to work for an e-commerce company that delivered products all over India.
"We thought this model could be applied in Kashmir too so we created our own brand," he said.
FastBeetle delivery agents would pick up products, pack them in their office in the region's main city of Srinagar and deliver them on motorbikes and minivans.
But the business came to a standstill following the scrapping of Article 370. Products couldn't be delivered as no vehicles, except for emergency services, were allowed on roads.
Communication blockades prevented the founders from communicating with their staff for months and the company's losses ran into hundreds of thousands of rupees, says Mr Samiullah.
The founders say they paid salaries by dipping into their personal savings. As soon as things started to normalise by the end of 2020, they decided to restart their business. But then the Covid-19 pandemic hit the world and they had to once again contend with months-long lockdowns.
But Mr Samiullah and Mr Rashid did not lose hope.
They realised that apple traders in the valley were struggling to deliver their produce, and so FastBeetle stepped in to deliver the fruit across Kashmir.
"The apple industry is the largest employment generator in the region, and the profits we made by delivering the fruit helped the business recoup its losses," says Mr Samiullah.
The company also started delivering oxygen cylinders and medicines to Covid patients.
Today, FastBeetle delivers everything, has 130 employees and operates throughout India and in several countries abroad. So far, it has delivered 100,000 orders in more than 55 countries. The company also works with over 1,500 Micro, Small and Medium Enterprises (MSMEs).
Mr Samiullah says they also try to help small-scale entrepreneurs by delivering their products at reasonable prices.
Beenish Bahir Khan, 33, who runs Craft World Kashmir - an online store selling hand-made crochet booties, bags and knitted winter clothing - says her business has received a major push with FastBeetle.
"They pick-up and drop our products at the doorsteps of our customers and this has helped us expand."
FastBeetle's success story is also serving as an inspiration to other entrepreneurs in the region, such as Arif Irshad Dar.
The 30-year-old runs an organic store called Kashmir Origin that sells fresh produce and hand-crafted products made by Kashmiri farmers and artisans.
Mr Dar says he wants to grow his business like Mr Samiullah and Mr Rashid so that he can create more jobs for people.
The budding entrepreneur says it is heartening to see FastBeetle make waves on Shark Tank "as it showed that even a start-up from Kashmir could make it big".
The founders say that they are now working to build an "ecosystem of start-ups".
There are challenges - they say people are still reluctant to invest in start-ups because of the uncertain political situation of the region.
"But we live here and we know the situation. We are aware of the snowfalls and curfews, we have to get used to this atmosphere and keep moving forward," Mr Rashid says.