Shrimp industry reels from changing demand patterns, slump in world economy
Published: 09:34, 26 January 2023 Update: 09:39, 26 January 2023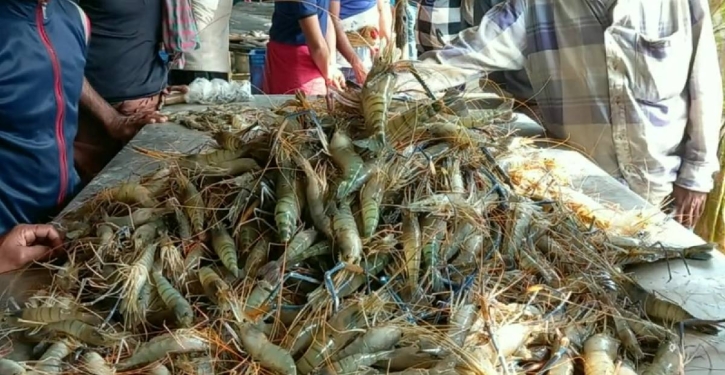 File photo
Bangladesh's shrimp export industry was already facing major declines, as 72 percent of the world's shrimp market is occupied by vannamei shrimp, also known as white leg shrimp, while the country mainly exports black tiger shrimp, or 'bagda', and scampi shrimp, or 'galda'.
According to industry sources, Bangladesh's shrimp export business suffered another major setback as the current global economic slump also took a heavy toll on the world's food market.
As a result, one of the major export items of Bangladesh, shrimp, has lost 80 percent of its previous demand on the world market. On top of that, export prices decreased by 40 percent.
Exporters and traders urged the government to approve commercial vannamei farming promptly.
"Due to the high demand for vannamei shrimp in the world market, bagda and golda shrimp are gradually losing market share in the western market. Against the backdrop of the ongoing global economic recession, demand for bagda and galda shrimp from Bangladesh dropped by 80% in the previous year," said S. Humayun Kabir, vice president of the Bangladesh Frozen Food Exporters' Association.
He also mentioned that the prices of bagda and galda had dropped by 40% on the international market. One pound of bagda shrimp costs $6, down from $10 last year.
"In the first eight months of 2021, 4000 containers of frozen shrimp were exported. However, in the same time period the following year, the export quantity dropped to only 1000 containers," he said.
Only 14 out of 61 frozen food exporting companies buy shrimp from local markets in shrimp-producing districts as a result of the sharp decline in demand over the past year, said the exporter.
As a result, shrimp farmers and local traders are incurring huge losses.
Syed Zakir Hossain, president of Bagerhat's Barakpur Fish Market Traders' Association, said they sold shrimp worth TK 1.5 crores regularly last year around this time. However, their earnings have dropped by half this year, to TK 70–80 lakhs.
Traders are selling bagda for TK 700–1100 per kg and galda for TK 900 per kg at different local markets in Bagerhat district.
For the farmer, the price dropped by half. Due to the setback, farmers are losing interest in shrimp farming.
Aswad Ali, a shrimp farmer in Bagerhat's Barakpur area, said that he has been in this occupation for the last 25 years.
He spent TK 1 lakh on this year's production, but his total income was only TK 70–80,000.
"The price of shrimp has dropped by 50 percent this year. I don't want to do this job anymore," he said.
Fakir Mahitul Islam Suman, president of the Bagerhat district shrimp farmers' association, said that exporters are not buying shrimp for a number of reasons.
"Prices of bagda and galda fell by TK 500 per KG," he said.
He urged the government to give shrimp farmers 5% subsidy, as well as incentives and easy bank loans.
Currently, vannamei is cultivated in three regions of the country on trial basis under a government pilot project.
As vannamei shrimp farming requires a lesser production cost and area, can compete well with the cheap varieties in the western market, traders are urging the government to allow commercial farming of vannamei as soon as possible.
Around 55,000 farmers in the district are currently involved in shrimp farming.
According to the district's fisheries department, there are around 77,000 enclosures ("gher", as called by locals) on 72,724 hectares of land. Among them, there are 52,000 enclosures on 52,000 hectares of land for black tiger shrimp, or "Bagda" farming, and a total of 25,000 enclosures on 20,000 hectares of land for scampi shrimp, or "Galda" farming.
A total of 35,000 metric tons of shrimp were produced in Bagerhat in the last fiscal (2021-22) and 35,672 metric tons in 2020–21.
A total of 24,104 metric tons of shrimp were exported from Khulna division in FY 2021-22, and the country earned TK 4000 crore that fiscal year. In FY 2020–21, 35,672 metric tons of shrimp were exported from Khulna, and the export earnings were TK 3,700 crore.