Dhaka to seek preferential market access to US instead of GSP
Asif Showkat Kallol || BusinessInsider
Published: 21:45, 30 November 2022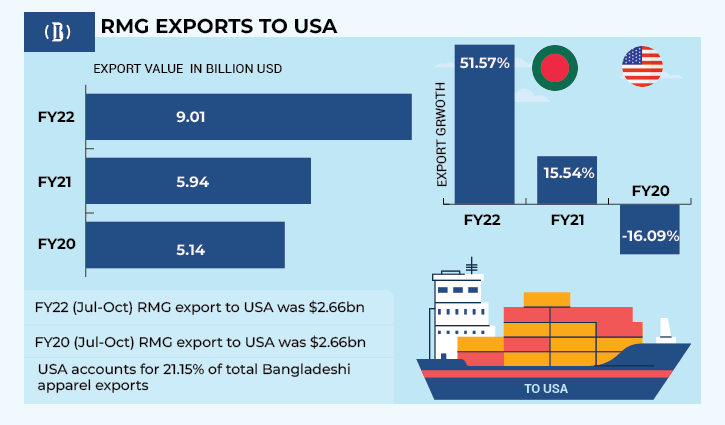 Graphics: Business Insider Bangladesh
Bangladesh is preparing its debut on removing the obligation of double fumigation in importing US cotton in the upcoming TICFA meeting.
Besides, export-import of seed, data protection and social media regulation will also be discussed as priority agendas in the ensuing TICFA meeting, next month, an official of the commerce ministry said.
The official said his ministry held a meeting recently to set Bangladesh's agendas and review USTR's ones.
The USTR, which is equivalent to Bangladesh's commerce ministry in the USA, has put this issue on top of agenda for the upcoming Trade and Investment Cooperation Forum Agreement meeting scheduled to be held in Washington on December 6, according to commerce ministry officials.
The eight-member team will be headed by senior secretary to the commerce ministry, Tapan Kanti Ghosh.
After the meeting, additional secretary and head of WTO cell Hafizur Rahman told Business Insider Bangladesh, "We will seek preferential market access from the US authorities instead of seeking GSP facilities."
He also said the registration of Bangladesh's pharmaceutical products will be eased in the USA. The US will give the certification authority to Bangladesh over seed export-import and shipping garments while the laboratory tests could be conducted in Bangladesh, he added.
In the meeting, it was decided Bangladesh will seek permission to become a member of IDFC (Investment Development Fund Corporation). Countries aspiring to GSP entitlement should become members of IDFC, he pointed out.
It may be mentioned here that the tenure of the latest GSP programme came to an end in 2020 and the US Congress has not revived it since then.
In August, speaking to the media, Tapan Kanti Ghosh reportedly said Bangladesh would still urge USTR to revive this facility for Bangladesh once the US Congress adopts a new GSP programme for a number of countries, in the future.