War takes toll on Bangladesh's RMG shipment to Poland, Germany
Jannatul Ferdushy || BusinessInsider
Published: 22:24, 29 November 2022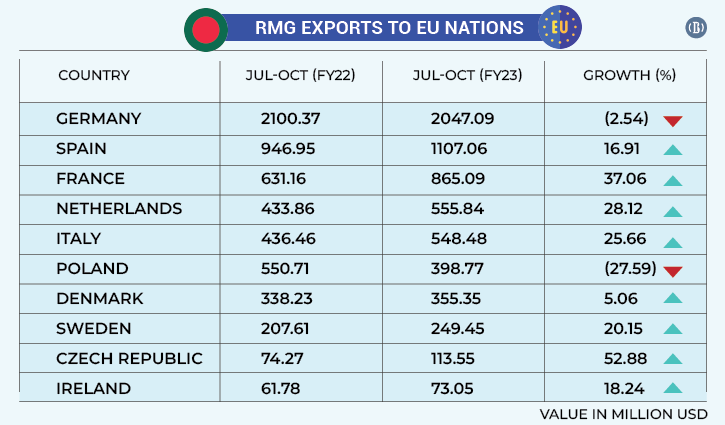 Graphics: Business Insider Bangladesh
As Poland and Germany have been confronting economic depression stemming from the Russia-Ukraine war, Bangladesh's apparel exports to the duos experienced negative growth during the July-October period of the current fiscal year.
According to Export Promotion Bureau (EPB) data over July-October exports, Bangladesh's shipment to Poland fell by 27.59 percent to $398.77 million and to Germany by 2.54 percent to $2 billion.
At the same time last year, Poland had imported worth $550.71 million and Germany $2.1 billion in apparel merchandise.
However, during the last fiscal year, Bangladesh had fetched $2 billion from Poland and in '21 FY it was $1.38 billion, respectively. However, Bangladesh fetched from Germany $5.61 billion, $7.16 billion, in the last two FYs, respectively.
"LPP S.A, a Polish multinational clothing retailer generally imports millions of dollars' worth apparels from Bangladesh and transship those to Russia. Amid the current war, they ceased paying our exporters and the dues amounted to more than $60 million. The pending orders are being held, too," Shahidullah Azim, vice president of Bangladesh Garment Manufacturers and Exporters Association (BGMEA), told Business Insider Bangladesh.
EPB data shows negative export growth to Russia, as well. In the July-October period, exports to Russia decreased by 51 percent to $90.23 million while shipment in the Chinese market fell by 4.35 percent to $69.31 million.
At the same time of last year, exports to Russia had aggregated $185 million and to China $66.42 million, respectively.
Of these, woven products lost 4.29 percent and knit products lost 1.45 percent in Germany while both woven and knit apparels lost in Poland more than 27 percent in the four months of '23 FY.
Moreover, Bulgaria has cut 40 percent, Latvia 26 percent and Portugal 3.5 percent apparel import from Bangladesh.
Although the apparel export to the EU had been affected severely, manufacturers believe that they could recover the market from next year.
"From last week, some of our buyers started coming back. Work orders are also increasing at a very slow pace. I think we will be able to recover all the dues in the next year," said BGMEA President Faruque Hassan.
Muhammad Hatem, executive president of Bangladesh Knitwear Manufacturers and Exporters Association, (BKMEA), said "This bad time will be over but we are worried about power and gas crisis. If the government can supply those utilities, exports will increase soon."
Bangladesh fetched $6.80 billion from the EU market during this period, gaining 10.26 percent of growth.
According to the EPB, overall exports dropped by 7.85 percent to $4.35 billion in October, this year.