Alibaba acquires HungryNaki
Ahmed Shawki || BusinessInsider
Published: 03:29, 4 March 2021 Update: 22:25, 4 March 2021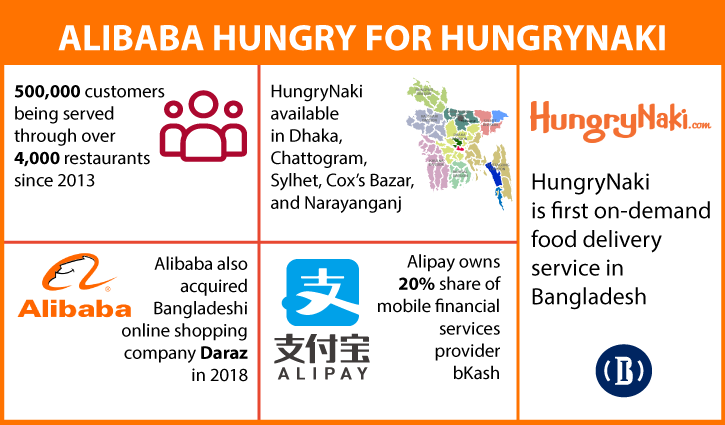 Global e-commerce giant Alibaba has bought HungryNaki, a local food delivery company at around Tk8 crore, to strengthen its footprint in Bangladesh
Global e-commerce giant Alibaba has bought HungryNaki, a local food delivery company at around Tk8 crore, to strengthen its footprint in Bangladesh.
"Yes, the deal is done. Alibaba has acquired our company at less than $1 million," said one of the shareholders of HungryNaki wishing not to be named.
However, Ibrahim Bin Mohiuddin, deputy chief executive officer of HungryNaki, neither denied nor confirmed the deal.
"We will come up with an official announcement within a day," he told the Business Insider Bangladesh on Wednesday.
Established in 2013, HungryNaki is the first on-demand food delivery company in Bangladesh.
The company is serving more than 500,000 customers across Dhaka, Chattogram, Sylhet, Cox's Bazar, and Narayanganj through its network of over 4,000 restaurants in these cities and towns.
Industry insiders said witnessing the boom of different types of e-commerce services in the country, global companies are showing interest in the Bangladesh market.
Alibaba invested in Bangladesh by acquiring the largest online shopping company Daraz in 2018.
At the same year, Alipay, the Chinese mobile payment giant owned by Alibaba Group, bought 20 percent stakes in Bangladesh's largest mobile financial services provider bKash Limited.
The HungryNaki's acquisition by Alibaba provides market validation for the emerging consumer technology sector in Bangladesh, said Fahim Ahmed, president at Pathao.
"However, it also illustrates how the lack of an enabling policy environment cedes the market towards colonisation. To build a truly digital Bangladesh, we need to allow local champions to emerge, grow, thrive and build the critical digital infrastructure of the country,' he said.
Alibaba, the Chinese multinational technology company specialising in e-commerce, retail, internet, and technology, was founded in 1999.
In 2014, Alibaba's initial public offering (IPO) raised $25 billion, giving the company a market value of $231 billion and, by far, then the largest IPO in world history.
It is one of the top 10 most valuable corporations, and is named the 31st-largest public company in the world on the Forbes Global 2000 2020 list.
In January 2018, Alibaba became the second Asian company to break the $500 billion valuation mark. As of 2020, Alibaba has the sixth-highest global brand valuation.
In December 2020, the Chinese authorities launched an investigation into the alleged monopolistic practices of Alibaba Group.
Regulators warned Alibaba about forcing merchants to sign exclusive deals which prevent them from offering products on rival platforms.