Bangladesh keen to form JWG to facilitate trade, investment with Singapore
Asif Showkat Kallol || BusinessInsider
Published: 16:18, 1 October 2022 Update: 16:19, 1 October 2022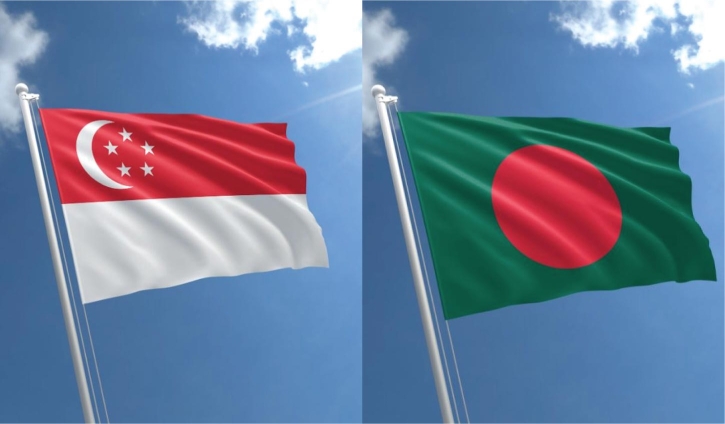 Flags of Singapore and Bangladesh. Photo: Representational
Bangladesh is keen to form a joint working group with Singapore to enhance bilateral trade and economic cooperation.
A proposal has been sent to the Secretary of the Ministry of Commerce and Industry of Singapore, an official of the commerce ministry said.
In particular, the government is putting its emphasis on facilitating the import-export trade process with the rich island nation. Therefore, things are underway to work out how to lessen time while importing goods from Singapore and vice-versa.
Apart from this, Dhaka is interested in increasing shipment of jute and jute products, leather and leather products, agricultural products, medicines, light engineering products and apparels, commerce ministry officials said.
Singapore endorses the fact that Bangladesh provides various facilities including ensuring one-stop services for Singaporean investors. A business delegation comprising chamber leaders of Singapore already visited Bangladesh. They discussed various trade and investment issues with top businessmen and officials of the government.
Currently, bilateral trade between Bangladesh and Singapore is worth about $ 5 to 6 billion dollars and the trade deficit is in favour of the tiny nation.
After India and China, Singapore is appearing as an important development partner of Bangladesh which is evident in terms of bilateral trade and economic cooperation.
A total of 150 Bangladeshi companies are operating in Singapore. Apart from this, Singapore is also helping Bangladesh develop by employing a good number of labour force.
The proposal asked the Singapore government for the formation of a working group so that bilateral trade could be expanded rapidly.
The memo said that a decision has been made at a meeting between the Senior Secretary of the Ministry of Commerce and the Permanent Secretary of the Ministry of Trade and Industry of Singapore to form a working group to enhance trade and economic cooperation between Bangladesh and Singapore.
Singapore is a priority destination for Bangladeshi workers for their good wage structure and other benefits. Foreign Minister AK Abdul Momen has requested Singapore authorities to recruit more skilled health workers and labourers with expertise in various fields.
Recently, foreign ministers of both the nations agreed on the need to explore new avenues of bilateral cooperation.
Bangladesh's Foreign Minister requested his counterpart to encourage Singaporean investors to invest in power, telecommunication, renewable energy, power transmission sectors in Bangladesh.
Paperwork on a Free Trade Agreement (FTA) is under process, Momen said.
Bangladesh considers Singapore as a role model for simplifying the import-export trade process. Preparations are underway to expedite paperwork between these two Asian countries to ease import and export and save time.
A few months ago, the government formed a committee to review Bangladesh's business environment to accomplish these goals.
The committee has set targets for Bangladesh to improve customs clearance and raise port efficiency.
Hong Kong, South Korea, Taiwan and Singapore are the four countries known as tigers in the Asian economy. However, in terms of Gross Domestic Product (GDP), Singapore is quite ahead of others.
It has the third highest per capita income in the world. The gross domestic product growth rate is 14.2 percent.
In this context, Commerce Minister Tipu Munshi said that Prime Minister Sheikh Hasina is developing special economic zones in 100 important places across the country.
Many of them are in the final stages of physical work. Many countries of the world have already come forward to invest in these zones.
Meanwhile, FBCCI, the apex body of businessmen and industrialists, also wants to increase trade with Singapore. Recently a delegation visited Singapore on behalf of the organisation.
The Singapore delegation held a view exchange meeting with the FBCCI. Vice President of FBCCI, Amin Helali said, Singapore is a developed country and Bangladesh receives huge amounts of remittances from there.
Apart from the government, FBCCI has also taken separate initiatives to deepen bilateral trade and investment relations, he said.