Apparel shipments to EU, USA rise in July-August amid war
Jannatul Ferdushy || BusinessInsider
Published: 10:41, 30 September 2022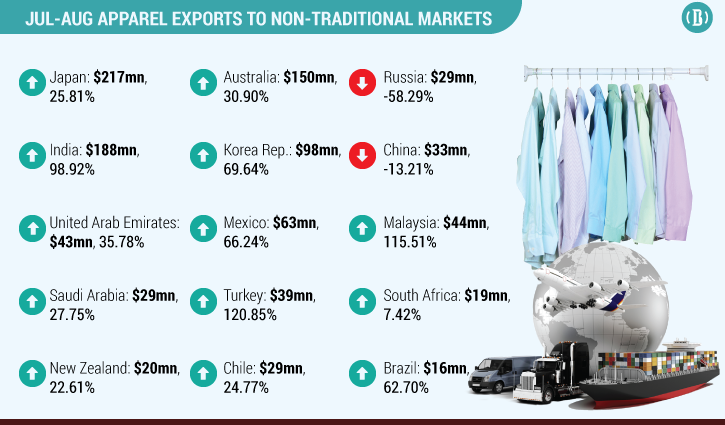 Business Insider Infograph
While apparel exporters ventilate their frustrations over a steady decline in work orders stemming from the Russia-Ukraine war, the export data shows a different story.
The Export Promotion Bureau (EPB) released the country-wise export statistics for July-August on Thursday and said the apparel exports to the European Union reached $3.45 billion dollars with 23.21 percent year-on-year growth.
During this time, apparel export to Germany, the largest apparel market in the EU region, grew by 16.44 percent. Also, exports to Spain and France spiked by 24.52 percent and 37.73 percent respectively. Other countries in the EU showed positive growth as per the data of EPB.
"You are seeing the current export data for which export orders had been placed before the war broke. The war will impact our November and December exports," Shahidullah Azim, vice president of Bangladesh Garment Manufacturers and Exporters Association (BGMEA) told the Business Insider Bangladesh.
He said: "Due the instability of the USA and EU markets, we are desperately looking for new markets in Asia. We are going to visit South Korea next month for a business meeting."
Many said the war's impact will soon be felt by the exporters.
"Though exports kept on growing during August 2021-to August 2022, the indicators suggest that growth would cease from this month due to the global economic turmoil and record inflation affecting retail businesses," Mohiuddin Rubel, Director of BGMEA told the Business Insider Bangladesh.
A number of global brands are suffering from decline in sales and unsold stocks, so they are halting current orders and production at Bangladesh end, he said.
"We need the government's support to overcome any turbulence, and we can face the ensuing situation," he noted.
During the first two months of the current fiscal year, the export aggregated $1.41 billion in the US market, showing an enhancement of 20.52 percent compared to the same period of FY 2021-22.
"Our RMG exports to the UK and Canada also showed 35.64 percent and 18.49 percent growth, respectively. At the same time, our apparel export to non-traditional markets grew by 37.90 percent and reached $1.20 billion," Rubel added.
Among the non-traditional markets, exports to Japan and India increased by 25.81 percent and 98.92 percent, respectively. On the other hand, exports to Russia and China declined by 58.29 percent and 13.21 percent, respectively.