Speakers praise eTDS at MCCI meeting
BI Report || BusinessInsider
Published: 21:08, 29 September 2022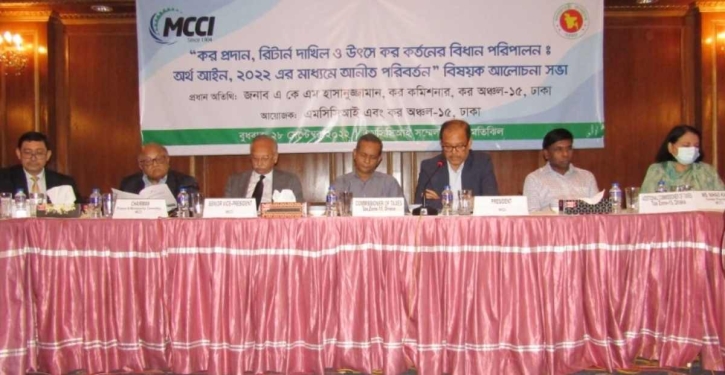 Photo: Collected
Speakers at a business meeting in the city on Thursday said National Board of Revenue's tax upgradation system will help trade and commerce of the country already battered by Covid-19 pandemic and Russia-Ukraine war.
MCCI Organised the discussion on "Payment of Taxes, Filing of Returns and Compliance with Provisions of Deduction of Tax at Source: Changes Brought by Finance Act, 2022" on Wednesday at MCCI Motijheel headquarters.
Md Saiful Islam, President, MCCI, chaired the meeting. The discussants included AKM Hasanuzzaman, Tax Commissioner of Tax Zone-15 under the National Board of Revenue (chief guest), additional, joint and deputy Tax Commissioners and other senior officials of the National Board of Revenue.
The members of the Board of Directors of MCCI, and representatives from the business community were also present.
Metropolitan Chamber of Commerce and Industries President Saiful Islam said NBR's tax update system would help local businesses as they have been battered by Covid-19 pandemic and the Russia-Ukraine war.
"The Finance Act of 2022, took all such global challenges into consideration," he said.
Joint Commissioner of Taxes, Tax Zone-15, Dhaka, Wakil Ahmed said that every institution was working on behalf of the government. Tax deducted at source was one of the highest sources of the government's revenue generation. He hoped everyone will support the implementation of the pertaining rules and regulations.
During an open discussion, the MCCI president said implementing the eTDS (electronic tax deducted at source system) would mean greater automation and improve the cooperation between the government and businesses.
Besides, representatives from Picard Bangladesh Limited, British American Tobacco Bangladesh Limited, HSBC, Bayer Crop Science Ltd., Transcom Limited, KAFCO, MetLife, NCC Bank, Chaldal.com, among others joined the open discussion.
Chief Guest Hasanuzzaman thanked MCCI for organising the event. He stated such events could bridge the gap between the tax authority and the taxpayers.