Validity of trade licence to be for 5 years
BI Report || BusinessInsider
Published: 18:38, 29 September 2022 Update: 18:39, 29 September 2022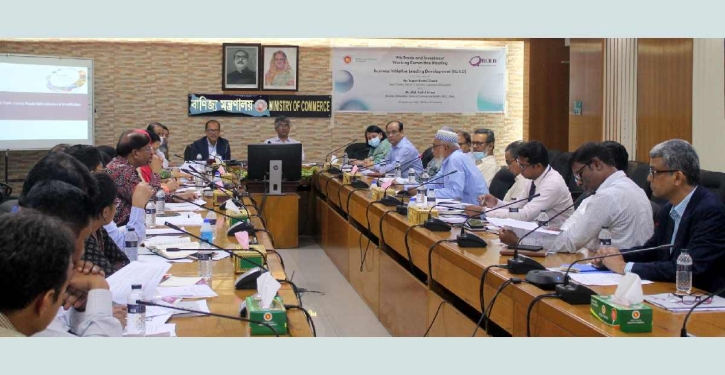 Photo: Collected
The government has accepted the proposal of Business Initiative Leading Development (BUILD) for issuing trade licences, at least for five years instead of one year to improve the ease of doing business.
BUILD came up with the proposal at the 9th Trade and Investment Working Committee (T&IWC) meeting jointly organised by the Ministry of Commerce and BUILD at the Bangladesh Secretariat on Wednesday. Tapan Kanti Ghosh, Senior Secretary to the Ministry of Commerce, and Md Saiful Islam, President of the Metropolitan Chamber of Commerce and Industry (MCCI), co-chaired the meeting.
Ferdaus Ara Begum, chief executive officer of BUILD, said that they studied the City Corporation Ideal Tax Schedule 2016 and Municipal Taxation Rules and found no legal bar in issuing trade licences for five years.
Echoing the proposal, Mohammed Nora Alam Siddique, joint secretary of the Local Government Division, said it could be implemented for municipalities and city corporations. "However, we need to review if Union Parishad can issue it under its present status," he said.
A trade licence is a must and primary approval for starting a business in Bangladesh. As the authorities in the country issue a trade licence for one year, businesses are required to renew it every year and it needs money and time.
Tapan Kanti Ghosh said they need to focus more on the recommendations of the previous meeting, which are yet to be implemented.
Md Saiful Islam called for introducing NID as the singular document for trade licence issuance following global practices.
Referring to BUILD's study on improved business environment and simplification of the company registration process, BUILD Chairperson Nihad Kabir suggested formulating a policy for availing certified copies from the Registrar of Joint Stock Companies And Firms. The fill-up process of a model article of association and memorandum of association can be more simplified to make the company registration process business-friendly.
Citing the process of issuing a subcontracting order, Mohammad Hatem, executive president of BKMEA, said that they need more engagements and consultations with the regulators before formulating any trade policies to ensure private sector representations.
Mentioning the proposal of BUILD for establishing dedicated scanners for agro products in all ports, Dr Sayed Rafiqual Amin, director, Plant Quarantine Wing, Department of Agricultural Extension, said that the Civil Aviation Authority established terminal scanners which are not fully equipped for covering all agro items. "Therefore, we need more specialised scanners for agro items and proper coordination with the relevant agencies for export growth," he said.
"We have formed a committee to conduct an analysis for establishing a National Plant Quarantine Authority. A committee has been formed to analyse the importance of establishing the proposed Authority," he said.
BUILD CEO Ferdaus Ara Begum delivered the presentation on "Trade License-Needs Rationalization and Simplification" urging the government to issue trade licenses for maximum of 5 years as per the needs of the businesses and reduction of renewal fees.
The study also highlighted a digitalised trade license issuance and renewal process including an online payment system, a single unified and simplified Trade License Form (Bilingual format) for all city corporation/union parishad, municipalities, revisiting discriminated fees, and resolving additional permission requirements from the local regulatory authority which was endorsed in the meeting.