Mighty CNG stations get gas connections twice without licence
Jannatul Ferdushy || BusinessInsider
Published: 19:07, 28 September 2022 Update: 19:37, 28 September 2022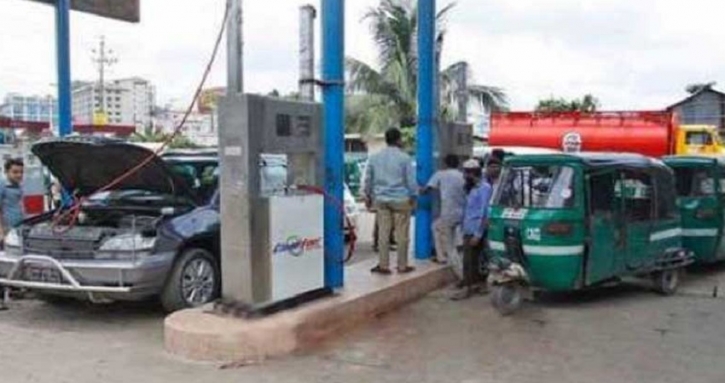 A CNG refuelling station. Photo: Representational
Authorities sent two CNG refuelling stations off-grid twice as they were running without licences on the outskirts of Dhaka.
Some of the officials of Titas Gas Transmission and Distribution Company allegedly had provided gas connections to the delinquent duos a couple of months ago, an official of the company said.
Savar Zone DGM of Titas, Ajit Kumar Dev confirmed the news of scissoring M/s Nabinagar CNG refuelling station and Dubai CNG refuelling station from national gas grid over licence fraudulence.
Meanwhile, Bangladesh Energy Regulatory Commission (BERC) has sought an explanation from Titas Gas for connecting those gas filling stations to the national grid without prior licences.
Several CNG filling stations had recently been disconnected due to lack of BERC licence. Among them, 14 including Nabinagar and Dubai were housed in Savar region. As many as 70 companies applied for licences after the recent gas lines cutt off incident. BERC is in the process of vetting those applications.
The companies had reconnected briefly on September 25th and were disconnected again the following day, Ajit told the Business Insider Bangladesh.
"It could happen for the second time as they contacted our people again with false paperwork to obtain their licences. After learning the news, they were cut-off, the next day."
BERC tabled some 47 licence applications before the commission meeting on September 19th. Out of these, 40 applications have fulfilled necessary conditions and the commission decided to issue them licences.
BERC member Mohammad Abu Farooq said, "We have a shortage of manpower. We are trying to issue licences as quickly as possible."
Officials claimed the department concerned worked until late night to do the paperwork. Sometimes, they have to work on weekends.
"An assistant manager deals 2,500 licences. You now understand how much load he has to take. We have designed an organogram to increase our manpower. At the final stage, the quality of service will increase," Farooq said.