US envoy wonders if Bangladesh ready to welcome best investors
Published: 18:34, 27 September 2022 Update: 18:37, 27 September 2022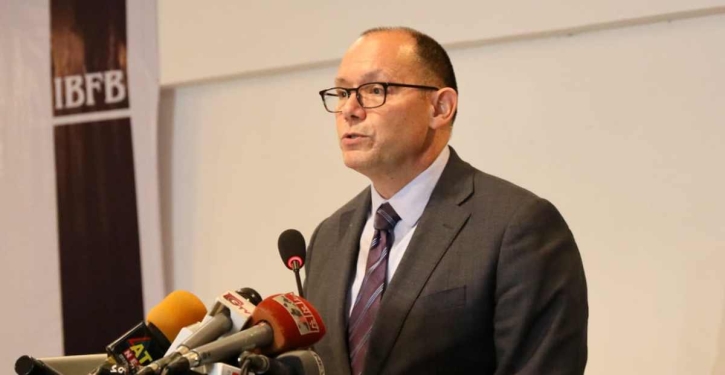 Photo: Collected
US Ambassador to Bangladesh Peter Haas has said a smart company considering doing business overseas will certainly want "certainty and security" as political violence and electoral instability "scare" them.
He said a smart company considering doing business overseas also wants to see certain things, including a developed transportation system, consistent access to power and water, and a well-trained workforce and Bangladesh has made great strides in filling these needs.
The US envoy said the international companies and investors must become more aware of the opportunities Bangladesh presents.
"Bangladesh must be ready to welcome American businesses," ambassador Haas said while speaking at a programme hosted by International Business Forum of Bangladesh (IBFB) at a city hotel on Tuesday as chief guest.
Founding President of IBFB Mahmudul Islam Chowdhury, Chairman of Policy Research Institute of Bnagladesh Dr Zaidi Sattar, Ambassador and Head of Delegation of the European Union Charles Whiteley, IBFB President Humayun Rashid and its Vice President MS Siddiqui also spoke.
The US envoy said there are strong reasons to look at Bangladesh for market opportunities and Bangladesh is worthy of their attention.
"Even in these challenging times, Bangladesh has a great macroeconomic story to tell. It has been among the fastest growing economies in the world over the past decade," Haas said.
Its GDP grew even during Covid-19 lockdowns, and, according to the Asian Development Bank, the economy is estimated to grow by 6.6 percent over the next year.
The country's financial leaders have so far managed its debt well and are taking important steps to deal with the inflationary pressures resulting from Russia's unprovoked invasion of Ukraine.
"Yes, times are tough. And as the World Bank recently pointed out, Bangladesh needs additional reforms in order to maintain its economic expansion going forward. But so far, the macroeconomic situation seems manageable," said the US envoy.
Haas said they at the embassy are focused on key objectives — a peaceful and stable Bangladesh, a Bangladesh that is committed to democracy, transparency, pluralism, tolerance, good governance, and respect for human rights; a socially and environmentally resilient Bangladesh and supporting Bangladesh's efforts to host the Rohingya refugees and until a safe, voluntary, and dignified return to Burma is possible.
"Each of these first four goals underpins our fifth goal: supporting Bangladesh in its efforts to achieve sustainable and broadly shared prosperity, improve labour standards, expand and diversify Bangladesh's economy, and open it to greater regional and global trade and connectivity," he said.
Haas said many US and international businesses want to expand in the region and they want to help Bangladesh create a business climate that is as welcoming as possible to foreign investment. "Clearly Bangladesh has a lot to offer international businesses."
The ambassador said the Bangladesh Investment Development Authority has recently signed a memorandum of understanding with US-based Anchorless Bangladesh to tell Bangladesh's story to international investors.
"But the other question is: Is Bangladesh ready to welcome investors, facilitate their entry into the market, and make life as easy as possible for those who have already invested?"
As Bangladesh graduates to middle-income status, ambassador Haas said, it will find it has many competitors also hungry for international business. "It's one thing to build a special economic zone, but that alone is not enough to attract the best investors."
Prime Minister Sheikh Hasina addressed the US-Bangladesh Business Council in New York last week.
In her speech, she noted that Bangladesh is continually working to improve its physical, legal, and financial structures in order to improve the investment climate here.
"The entire business community – both in Bangladesh and internationally – welcomes this commitment," said ambassador Haas, adding that the United States stands ready to assist these efforts in whatever way they can.