BTA hits back at BCSU on tea workers' strike
BI Report || BusinessInsider
Published: 22:19, 16 August 2022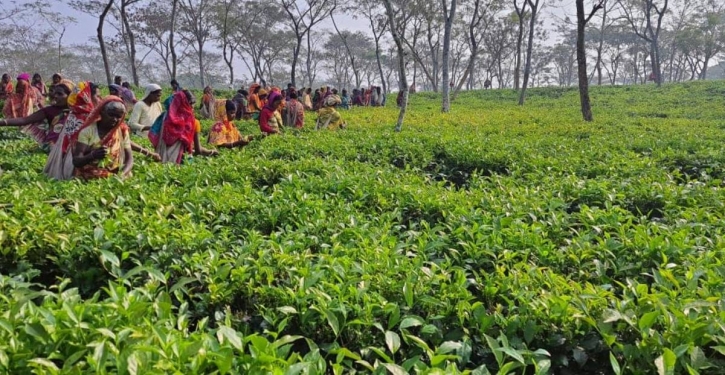 File photo
The Bangladesh Tea Association (BTA) on Tuesday hit back at the Bangladesh Cha Sramik Union (BCSU), claiming that a tea worker gets wages and benefits worth at least Tk 400 per day.
This statement came after nearly 1, 50,000 workers at more than 168 Bangladeshi tea estates had gone on strike last Saturday demanding a 150% rise in their dollar-a-day wages. The strike has been sponsored by the Bangladesh Cha Sramik Union (BCSU), the only trade union of tea estate workers of Bangladesh.
BTA said in addition to daily wages, direct benefits including overtime, annual leave allowances, festival leave allowances, sick leave allowances, provident fund allowances and administrative allowances on the provident funds are provided to the tea workers. Other benefits are well worth Tk 175 per day per worker that ensures their social development and civic benefits.
The Tea Association said to ensure food security of the workers, about 94,200 bighas (or nearly 31,400 acres) of land has been allocated for the labourers' farming while a monthly food ration worth 42.26 kgs of wheat or rice is provided per month to each of the workers at a nominal price of Tk 2 per kg.
The housing of workers is also ensured with agreed standards where each employee receives a residence. Two hospitals with 721 beds and 84 garden hospitals have been built with 891 medical personnel providing health care services to the tea leaf harvesters.
To provide education for the workers' children, 768 schools have been established where almost 45,000 students receive free education. Women workers are getting 16 weeks of paid maternity leave to ensure their health. Comprehensive financial aid is offered to retired workers which include different labor welfare programmes. Furthermore, according to the tea worker's contract after the retirement of a tea worker, other members of his/her family will be employed as a tea worker, too.
In their statement, The Bangladesh Tea Association argued that, since 2012, even though the workers' income has increased by 94.20 percent, the auction price of tea has increased by only 0.16%. However, even after incurring revenue losses, tea industry in Bangladesh complies with labor laws quite strictly, being a 190-year-old industry.
Bangladesh contributes about 3% of global tea production. The Bangladeshi tea market is valued roughly at Tk 3,500 crore, and the industry contributes approximately 1% to the GDP. A total of 168 tea estates in Sylhet and Chittagong are allegedly losing daily tea leaves worth more than Tk 20 crores due to the ongoing movement amid peak harvesting season.
About 90% of the annual production of tea is consumed domestically. BTA is afraid that any disruption in production will result in imports at the expense of scarce dollars.