Estimate of Bangladesh money in Swiss Banks "purely speculative": Swiss Envoy
Published: 16:59, 10 August 2022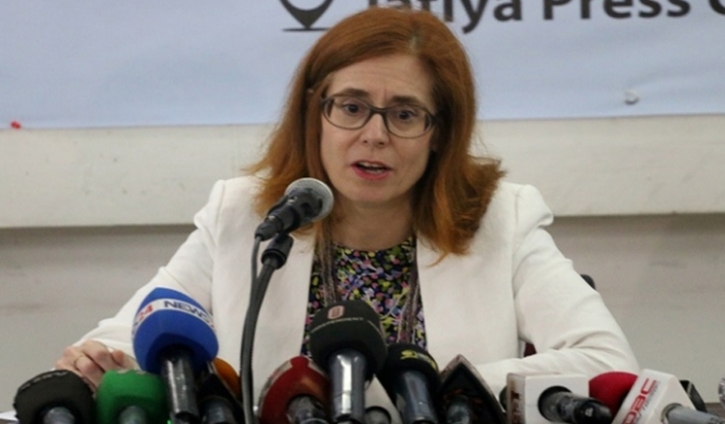 Ambassador of Switzerland to Bangladesh Nathalie Chuard speaks a programme in Dhaka on August 10, 2022. Photo: Business Insider Bangladesh
Ambassador of Switzerland to Bangladesh Nathalie Chuard has said any estimate on deposits of Bangladeshi money in the Swiss banks is "purely speculative" and no conclusion can be drawn on the basis of media and other reports.
"Switzerland is not a safe haven for corrupt money," she said adding "When it comes to the Bangladeshi money deposited in the Swiss banks - the deposits meant by individuals …represent only one aspect of various sources of public and private funds."
The Swiss envoy said … no conclusion can be drawn on the volumes of private deposits from Bangladeshi customers in Switzerland on the basis of these reports of the Swiss National Bank.
She made the remarks while responding to a volley of questions on the issue at DCAB Talk on Wednesday. The briefing began by observing one-minute silence to pay homage to Father of the Nation Bangabandhu Sheikh Mujibur Rahman and his family members who were brutally assassinated on August 15 in 1975.
DCAB President Rezaul Karim Lotus and its General Secretary AKM Moinuddin also spoke at the event held at Jatiya Press Club (JPC).
Bangladeshi media outlets reported that funds parked by Bangladeshi nationals and entities in all the Swiss banks swelled by 54 per cent to around CHF (Swiss Franc) 871 million (Tk 83.18 billion) in the last calendar year. The amount was around CHF 563 million in 2020.
Responding to a question on information exchange on the issue, she said Switzerland is really committed to implementing international standards. In accordance with these international standards they can have some specific regulations and agreements also with the country to exchange this type of information, she said.
"So that something should be developed," said the ambassador, adding that they have been providing to the government all the information regarding how to reach an agreement on these matters but no request has been submitted regarding any particular funding.
On the statistics, the Swiss envoy said, money of the individuals that is placed, for instance, in Swiss banks - not just in Switzerland but in the Swiss banks worldwide - has recently been decreasing.
She said they certainly do not encourage capital flight and the Swiss bank system is the most renowned and internationally connected system.
At all the financial centers, the envoy said, there is always a risk of abuse but Switzerland really takes steps to mitigate its risk as fast as possible.