DSEX drops below 6,300 points again
BI Report || BusinessInsider
Published: 19:13, 8 August 2022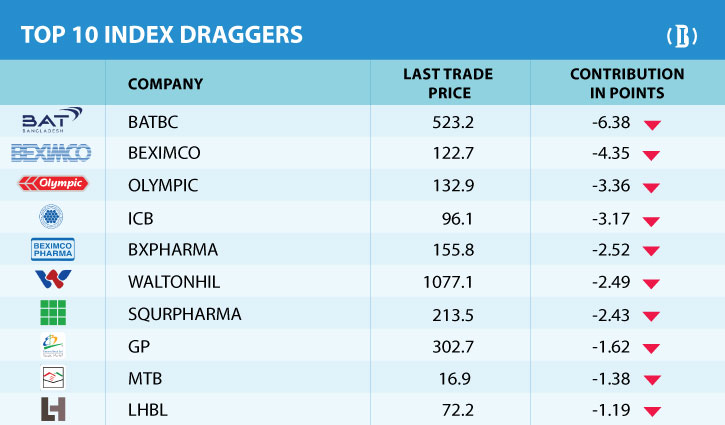 Graphics: Business Insider Bangladesh
The main index of the Dhaka Stock Exchange, DSEX, has slumped below 6,300 points again, dropping 45 points or 0.71 percent to end Monday's session at 6,258.
With this, the capital market faced a major price drop for the first time since the implementation of the minimum price or floor price method.
The index traded higher till 11:00am but fell in the next three and a half hours. The fall in the last 35 minutes was even more.
The country's stock markets also fell on Sunday, the first working day after the record increase in fuel prices.
However, the decline was moderate due to the floor price set by the regulator and the liberality of banks' exposure limit for capital market investments.
However, on Monday, the two stock exchanges suffered a big blow. The volume of turnover on DSE on the day was also lower than the previous session but managed to remain above Tk 1,000 crore for five consecutive working days.
The DSE had a turnover of Tk 1,083.46 crore on the day, which is Tk 33.87 crore less than the previous session.
Among other indices, the shariah-based DSES fell by 8.59 points or 0.62 percent and the blue-chip DS-30 decreased by 21.96 points or 0.97 percent.
Shares of the 380 companies traded on the day, of which 103 firms gained, 211 issues lost and 66 companies remained unchanged.
The textile sector rose to the top position in terms of transactions. The total turnover in this sector was Tk 272.4 crore, which is 26.70 percent of the total turnover.
The miscellaneous sector was at the second position with Tk 109.03 crore turnover, followed by pharmaceuticals and chemicals sector at Tk 108.2 crore.
Shares of Beximco Limited were the most-traded by value on the DSE as its shares worth Tk 80.92 crore were traded on the day.
Malek Spinning, which was the second most-traded stock, had a turnover of Tk 44.77 crore followed by Coppertech, Olympic Industries, Intraco Refueling, LafargeHolcim, Sea Pearl, Makson Spinning, ACMEPL and Orion Infusion.
Meanwhile, the overall index CASPI of the Chittagong Stock Exchange (CSE) decreased over 96 points to 18,438 and securities worth Tk 18.37 crore were traded on the day.