Food security to come under threat: Economists
BI Report || BusinessInsider
Published: 21:34, 6 August 2022 Update: 22:46, 6 August 2022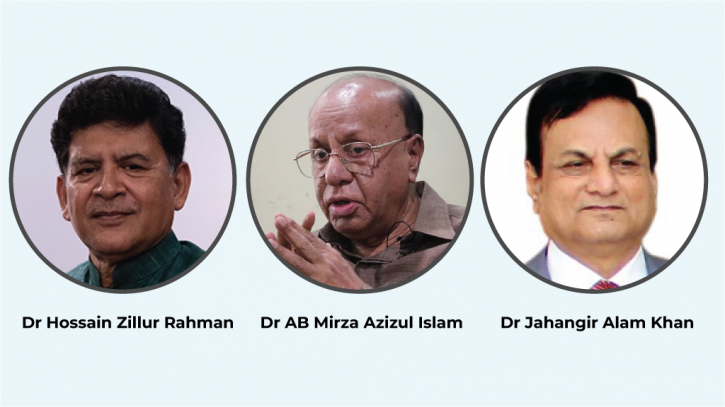 Photo collage: Business Insider Bangladesh
Economists have said Bangladesh's food security has been threatened due to the price hike of various petroleum products, including diesel.
They said it is not the proper time to raise fuel oil prices for the flash-flood- battered agriculture sector.
Former finance adviser to a caretaker government, Dr AB Mirza Azizul Islam, told Business Insider Bangladesh that almost 50 percent price hike of different petroleum products is untimely when its international prices is declining.
More people are embracing poverty because of the huge inflationary pressure, and even the farm sector is also affected, he added.
He also said an increase in transportation cost and diesel price hike would be detrimental to Aman paddy production this year.
It was expected that the economic policy should have been more pro-people with the state-run social safety net programmes running properly, Azizul pointed out.
Regarding the IMF loan, the economist said the government should weigh the conditions and measure opportunity cost of the fund before accepting it.
Recalling his experience during the caretaker government more than a decade ago, he said, "Once I had solicited an IMF loan for improving Bangladesh's Balance of Payment situation but had turned down their strings."
Executive Chairman of BRAC Dr Hossain Zillur Rahman, who was also commerce adviser to a caretaker government, told Business Insider Bangladesh that prices of fuel oil have multi-dimensional effects on the country's economy.
"The government had alternatives to price hike of fuel oils but they did not pick that up," he added.
Rahman said the government should extend all assistance to the low income people as they will be hit hard by the oil price spiral.
Meanwhile an academician said the domestic food securities will come under unprecedented challenges due to the affected irrigation caused by diesel price hike.
"Some farmland may stay uncultivated this season because of lack of necessary irrigation," Vice-Chancellor of the University of Global Village (UGV), in Barisal and Agricultural Economist, Prof Dr Jahangir Alam Khan told the Business Insider Bangladesh.
Even the government has set a food import target at 15 lakh tonnes this 2022-23 fiscal year which may get raised to 25 lakh tonnes, he said.
Khan said the country's irrigation system is going to be affected badly due to almost 50 percent price hike of diesel and plantation of transplanted Aus and Aman will be strained.
Due to inflation, the next Boro production will also be hampered.
More than 65 per cent of the country's irrigation depends on diesel alone while the rest is done by electricity which is being rationed because of regular load-shedding, he added.
The agriculture economist also said in the 2009-10 fiscal year, the government was providing cash support to the farmers to meet the crisis of energy price hike. This cash support should be reintroduced this fiscal year, he added.