BPC to lose over Tk8 a litre despite diesel's record price hike
BI Report || BusinessInsider
Published: 19:07, 6 August 2022 Update: 19:08, 6 August 2022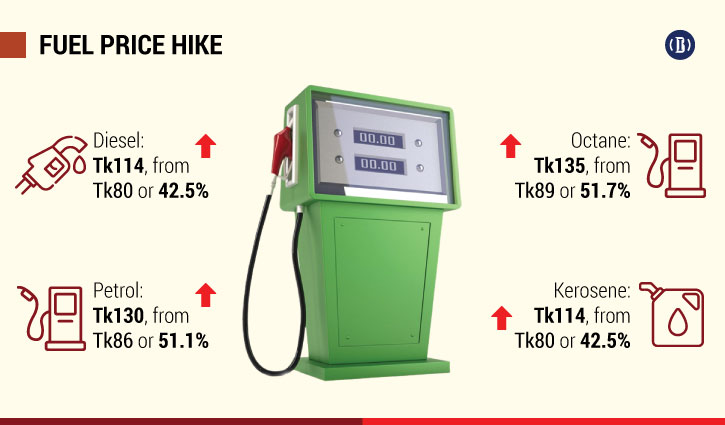 Business Insider Illustrations
The government has hiked the prices of fuel oils to minimise the burgeoning losses or subsidies it has been incurring for selling the oils at much lower rates than the costs.
In an announcement on Friday night, the energy ministry hiked the prices of diesel and kerosene by 42.5 percent to Tk 114 a litre, while petrol and octane prices have been raised by 51.1 percent and 51.7 percent to Tk 130 and Tk 135 respectively.
The new prices came into effect from 12 at night Friday, the Ministry of Power Energy and Mineral Resources said in a notification.
According to the notification, due to the rise in fuel prices in international markets, various countries, including neighbouring countries, regularly make price adjustments.
However, Bangladesh did not adjust fuel prices, which remained much lower than neighbouring India, creating possibilities for fuel to be smuggled out. This was another reason for the price hike, the notification said.
It also mentioned that the hike became essential to keep the import activities of Bangladesh Petroleum Corporation (BPC) normal as the state-run agency has been facing huge losses for the last six months.
According to BPC, it incurred a loss worth Tk 8,014 crore for the February-July 2022 period due to the price spike, especially after the Russia-Ukraine war began on February 24. Diesel prices rose over $170 a barrel in June and octane $148, which came down to $139 and $115 respectively in July.
State Minister for Energy, Power and Mineral Resources Nasrul Hamid said it was not possible for the government to import fuel oils without increasing the prices.
He made the comment following the price hike of all fuels – diesel, kerosene, petrol and octane – on Friday night.
The state minister said Bangladesh is fully dependent on imports for meeting fuel oil needs and it was not possible to bring in oil without increasing the prices.
The government has increased the prices of all types of fuel in Bangladesh in line with the global markets, he said.
Hamid, however, said there is nothing to worry about as they'll reduce the prices if its buying costs go down.
Meanwhile, the price hike has already started to affect commuters across the country as transporters have increased their fares. Also, the number of public transport was very low compared to the usual time.