Bangladesh hikes fuel prices to record high when global prices at 6-month low
BI Report || BusinessInsider
Published: 18:26, 6 August 2022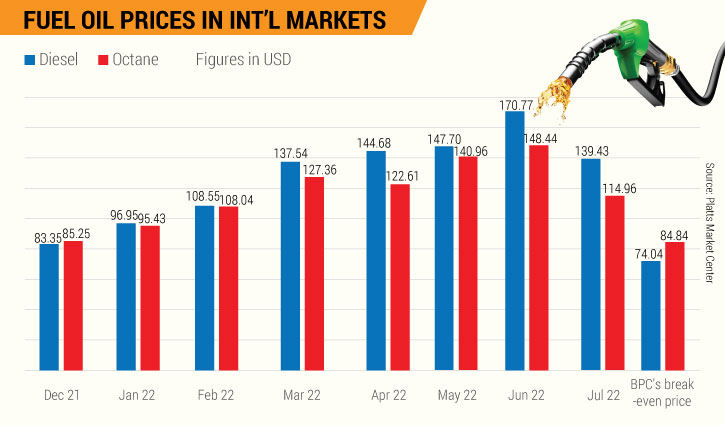 Graphics: Business Insider Bangladesh
The government's decision to hike fuel prices to a record on Friday comes at a time when global prices are on a downtrend, hitting their lowest levels on the same day since February.
With a falling international fuel market, the government's reasoning for a "necessary adjustment to the global market" seems contrary to the market reality.
Officials said the latest price hikes at the retail level were inevitable to reduce the subsidy burden on state-run distribution companies.
However, according to international media reports, Brent crude settled at $94.92 a barrel, 11 percent off last Friday's settlement, while US West Texas Intermediate crude settled at $89.01, off 8 percent in the week.
Meanwhile, on the same day, the Energy and Mineral Resources Division increased fuel oil prices by 42.5-51.6 percent, the highest levels not seen since the country's independence.
According to a price notification from the ministry, a litre of octane now costs Tk 135, which is 51.7 percent higher than the previous rate of Tk 89.
The prices of diesel and kerosene have been increased by 42.5 percent to Tk 114 per litre from Tk 80. Also, each litre of petrol now costs Tk 130, a rise of Tk 44 or 51.1 percent.
Nasrul Hamid, state minister for Power, Energy and Mineral Resources, "The adjustments were necessary due to the situation in the global fuel market."
"If the situation normalises, the fuel prices will be revised accordingly," he added.
However, oil prices in the international market had been in a stable situation for a while.
Crude oil prices skyrocketed on March 7 this year, surging above $130 a barrel but later retreated and remained below $100 since July 20.
During that period of spiked fuel prices, the government refrained from readjusting prices at home and kept subsidising the state-run energy agencies.
Nasrul Hamid said the government had adjusted fuel prices when global prices went off the roof in March, the hike would've been much higher.
Nasrul Hamid informed that the Bangladesh Petroleum Corporation (BPC) incurred Tk 8,012 crore loss from February to July period for not adjusting fuel prices when global prices had skyrocketed in March.
Even with the latest hike, the state minister informed, BPC will continue to incur Tk 8.13 loss on per litre diesel.
On the other hand, after the price jump in March, global fuel prices remained relatively stable even amid the Russia- Ukraine conflict, contradicting warnings from stakeholders.
The conflict, however, put a slight strain on supplies but seems to be remedied as the OPEC+ producer group agreed this week to raise its oil output goal by 1,00,000 barrels per day (bpd) in September.
Moreover, the west, especially European nations are concerned over supply as European Union sanctions banning seaborne imports of Russian crude and oil products set to take effect on December 5.
In the meantime, Russia had offered to sell crude oil to many Asian countries, including Bangladesh, at a discounted rate, since the world's third-highest oil-producing country is under sanctions.
China, India, and even Saudi Arabia took up the offer but Bangladesh did not, citing technical issues. There were difficulties in the mode of payment to the heavily sanctioned Russia, and also a lack of refinery capacity for crude oil in Bangladesh.