Bangladesh's RMG export to India rises faster than other markets
Jannatul Ferdushy || BusinessInsider
Published: 12:47, 11 July 2022 Update: 13:10, 11 July 2022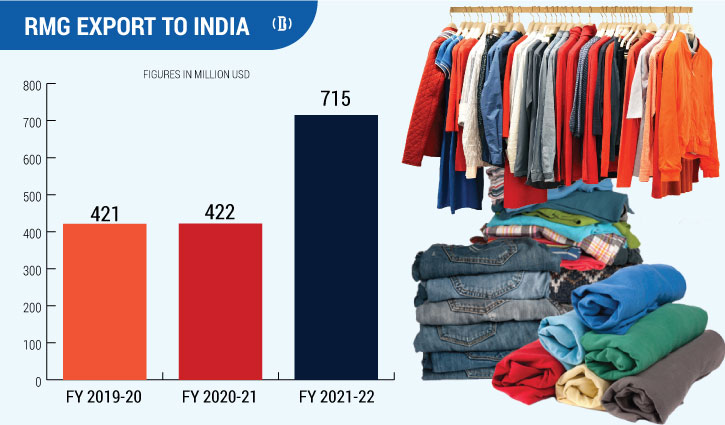 Graphics: Business Insider Bangladesh
Among the non-traditional markets, apparel exports to India have grown incredibly in the just-concluded fiscal year as importers took efforts to cut shipment costs amid the waning Covid pandemic.
According to the Export Promotion Bureau (EPB), exports to India grew by 70.58 percent in the last fiscal year, as against the overall export growth of 35.47 percent within the less-popular markets.
"Being their neighbour, we can send our products through land ports by truck-loads to India with much lower cost. On the other hand, Indian importers enjoy duty-free facilities while importing Bangladeshi apparel," Shahidullah Azim, Vice President of Bangladesh Garment Manufacturers and Exporters Association (BGMEA) told the Business Insider Bangladesh.
Apparel shipments grew by 34 percent in the biggest export market of the European Union and, it grew by 51 percent, 33 percent and 31 percent in the USA, Canada and UK, respectively.
Bangladesh shipped garments to India worth $715.41 million in 2022FY as against $ 421.86 million in 2021 FY.
As the world is facing new hard challenges on a regular interval, the businesses are also evolving through fresh trade strategies for survival, exporters said.
Together with the old partners, Bangladesh is forging relations with the new partners, as well, they added.
"The reality is trade with the neighbours or intra-region businesses will rise substantially as the world has been experiencing adverse situations like lockdown and war which are affecting the global supply chain. As Bangladesh is the nearest market to India, New Delhi has imported more from Dhaka," Abdullah Hil Rakib, Director of BGMEA, said.
The readymade garment sub-sector is fetching the majority portion of Bangladesh foreign exchange. In June, the clothing industry bagged the highest $4.09 billion from the global markets.
During the last fiscal year, Bangladesh set record earnings worth $42.61 billion, exporting trousers, denim, T-shirts, sweaters, blouses, skirts and underwear etc.