Remittance inflow dips by 15% in FY22
BI Report || BusinessInsider
Published: 19:38, 3 July 2022 Update: 20:51, 3 July 2022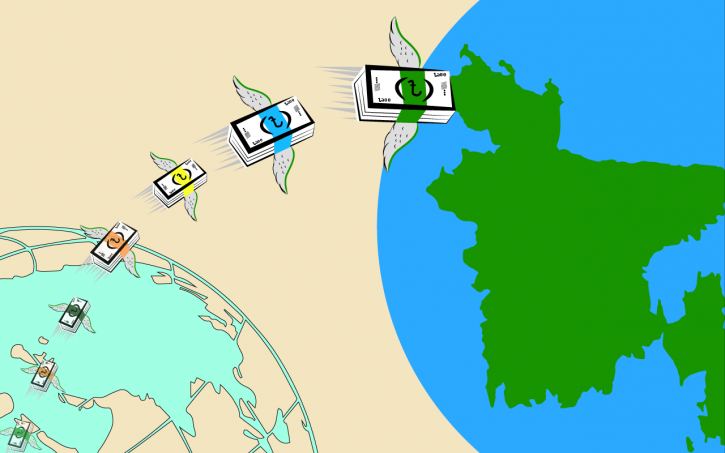 Photo: Representational
Despite providing various facilities including incremental incentives, the remittance has decreased by 15 percent in the just-departed 2021-22 fiscal year as compared to the previous fiscal year.
According to central bank sources, in the fiscal year 2021-22, expatriate Bangladeshis sent home remittances worth $ 2,103.17 crore ($ 21.03 billion) through banking channels, which is 15.11 percent less than what was in the previous fiscal year.
That time, remittances aggregated $ 2,477.77 crore ($24.77 billion).
In June, the terminal month of the last fiscal year, $183.73 crore (1.83 billion) dollars came to the country, which is 5.33 percent less than the same period of last year.
Despite the disaster caused by the coronavirus, major economic indicators fell sharp in the fiscal year 2020-21, but the country's remittance flow was strong.
However, since the beginning of the expired fiscal year 2021-22, the growth trend of remittances has been declining.
Last July, expatriates sent home $187 crore, in August $181 crore, in September $172 crore, in October $164 crore, in November $153 crore and in December $163 crore, respectively.
In January of this calendar year, $170 crore, in February $149 crore and in March $186 crore were sent home by Bangladesh's overseas workers.
Expatriates sent more than $201 crore remittances in April, the highest in a single month, in the last fiscal year. And, in May, $188 crore came to the country.
In the last financial year, $40.27 crore came through six state-owned commercial banks, $3.72 crore came through specialised Krishi banks, $165.37 crore through 41 private banks and $9.41 crore through 9 foreign banks.
The insiders say that when the dollar got higher in the kerb market than what was offered by the banks, remittances began a fishy journey home through 'hundi'.
At present, the bank is exchanging a dollar with Tk 93 to Tk 94 for remitted money. Added to that is the government's two and a half percent incentive. In all a worker is getting Tk 95 to Tk 96 for a dollar.
On the other hand, the dollar is being sold at Tk 98 to 99 in the informal market. That means, if remittances come in a different way than the banking channel, more money is being received, therefore, the flow of remittances via legal channels is falling.