Bangladesh's exports hit record $52bn in FY22
BI Report || BusinessInsider
Published: 17:08, 3 July 2022 Update: 22:36, 3 July 2022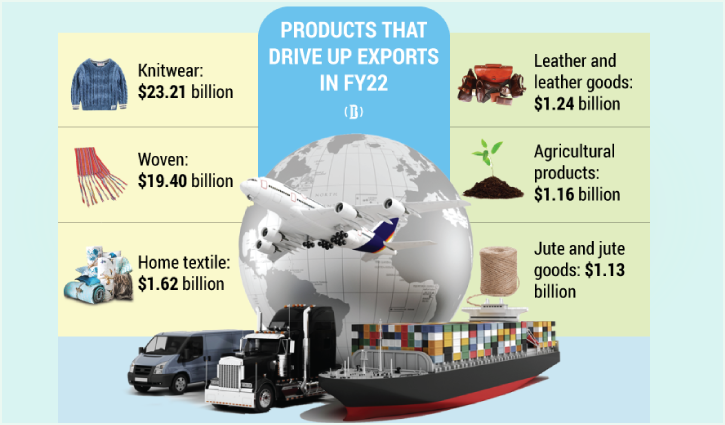 BI Illustration.
Bangladesh's merchandise exports touched a record $52 billion in fiscal 2021-22, exceeding the country's target by about 20 percent and registering 34.38 percent growth year-on-year, Export Promotion Bureau (EPB) data showed.
Exports reached a record $4.90 billion in June, up over 37 percent from less than $3.58 billion for the same month a year ago, led by robust growth in readymade garments, agricultural products, leather and leather goods, home textiles, engineering products, and pharmaceuticals.
The commerce ministry had set a merchandise export target of $43.50 billion for FY22, up from $38.79 billion in FY21.
The exporters think they have lost some work orders due to war on Ukraine; otherwise they could grow by 60 percent as the raw material price has been increased by 100 percent. The exporters also think that the growth for the next fiscal year will be declined as yarn prices already have decreased.
"The year has ended definitely with good growth, yet it is below our expectation. It could be 60 percent if there was no war," Muhammad Hatem, executive president of Bangladesh Knitwear Manufacturers and Exporters Association (BKMEA), told the Business Insider Bangladesh on Sunday.
He said last year's yarn price was $2.5 per kg which is now $5.30 per kg. So, according to the yarn price this growth could be more. "Quantity also has been increased by 10 to 15 percent but compared to the manufacturing cost we lost 10 cents to 15 cents."
The fiscal year has ended with amazing growth in spite of war and inflation. Frozen food export grew by 11.64 percent to $533 million, agricultural products by 13 percent to $1.16 billion, leather and leather goods 32.23 percent to $1.24 billion while the major export item readymade garment grew by 35.47 percent to $42.61 billion. Of the amount, knitwear grew by 36.88 percent to $23.21 billion and woven 33.82 percent to $19.40 billion.
An analyst, however, said this hefty growth could not be achieved in the next year as the present global situation may reverse.
"This growth will not be sustained because some of the factors have worked for the stout export. Inflated raw material price is one of them. Due to Covid-19, some work orders have been diverted from China and Vietnam," Dr Ahsan H Mansur, executive director of the Policy Research Institute of Bangladesh, told the Business Insider Bangladesh.
He thinks the mentioned crisis will be controlled then the growth of export will not be the same in the next fiscal year. "Already the yarn price has decreased and the Covid situation is normal in China and Vietnam. But he expected the USA market will be the same as there is a trade conflict between SINO-US."
Echoing Hatem, Bangladesh Garments Manufacturers and Exporters Association (BGMEA) Vice President Shahidullah Azim said, "It is not the actual growth. The inflated price of the raw material and import cost shows the growth is hefty but we are impacted by the war as one of our biggest markets has been affected. Overall volumes of work orders have declined."