Excess liquidity shrinks significantly: BB
BI Report || BusinessInsider
Published: 15:33, 1 July 2022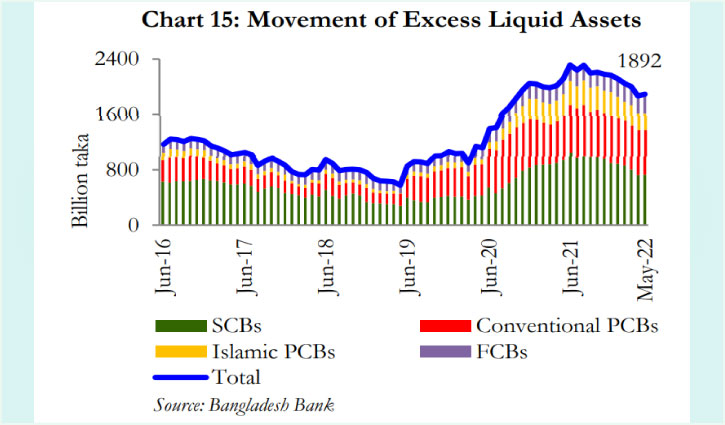 Image: Collected
Excess reserves and liquid assets gradually diminished over the months with the start of the recovery of the economy from the pandemic, Bangladesh Bank (BB) said in the monetary policy stance for FY23 launched on Thursday.
"Following rising demand for local currency for regular economic activities and foreign currency for growing import payments, partly settled by buying foreign exchange from BB in exchange for BDT, excess reserves contracted significantly in recent months," the BB said in the MPS.
Thus, the liquidity situation became tidy for many banks, some of which have recently been facing increased liquidity pressure due to uneven distribution, said the central bank on the overall liquidity situation and related money and credit markets.
According to the BB's latest data, the excess liquid assets declined from Tk 231,500 crore in June 2021 to Tk 189,200 crore in May 2022, mainly because of the reduction of excess reserves from Tk 62,500 crore to Tk 22,000 crore.
The central bank also said Islamic banks hold a lion part of excess reserves as they lack alternative opportunities for investments.
But some conventional banks are under some liquidity stresses, which are reflected in the overnight call money market that rose to 5 percent in June this year from 2.25 percent in June a year ago.