Apparel exports dwindle to unconventional markets
Jannatul Ferdushy || BusinessInsider
Published: 21:15, 27 June 2022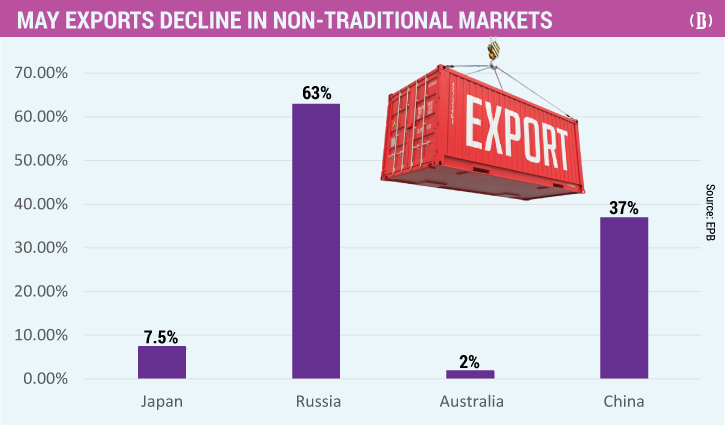 Graphics: Business Insider Bangladesh
Bangladesh is experiencing a downward trend in apparel shipments owing to the war between Russia and Ukraine.
According to Bangladesh Garment Manufacturers and Exporters Association (BGMEA), Bangladesh lost 7.5 percent of its export revenue in Japan, 2.39 percent in Australia, 63 percent in Russia and 37.28 percent in China year on year.
"We are losing export earnings across the globe. Some of the potential countries' import data show a negative curve. Besides, we are losing work orders as well due to the prolonged war which has created severe inflation in most parts of the world," Shahidullah Azim, vice president of BGMEA told the Business Insider Bangladesh.
He, however, said Bangladesh is not facing many difficulties to realise revenue transactions from the Russian market.
"Our transaction with Russia is not affected as about 80 percent of the Russia-bound exports occur through 3rd parties and the rest 20 percent is done straight with Russian importers. Currently, we are following a 'go slow" strategy while entertaining Russian buyers," he said.
Although these countries are Bangladesh's unconventional importing partners, Japan recorded $60.79 million worth of imports in May, Australia $56.62 million, Russia $23.87 million and China $10.71 million, respectively, according to BGMEA.
Bangladesh's apparel shipment to Japan during the same period of the earlier year was worth $65.40 million. The figure for Australia aggregated $58 million, Russia $64.52 million and China $17.08 million, respectively.
However, Bangladesh exported $5.68 billion to exceptional markets. Of these, Japan imported $1,029 million worth of garments from Bangladesh, Australia $765.47 million, Russia $687.81 million and China 241.86 million in the 2021 calendar year (CY).
Exports to the non-conventional markets have been increasing steadily for the last several years and exporters expected that shipments could increase at the end of the current fiscal year.
"Unfortunately, inflation caused by the war made the patrons reluctant to buy the clothes as they prioritise expenditures mostly on foodstuff," said Executive President Bangladesh knitwear Manufacturers and Exporters Association (BKMEA), Muhammad Hatem.
During eleven months of the current fiscal year, Bangladesh fetched $38.52 billion from the international market exporting trousers, denim, T-shirts, sweaters, blouses, underwear, etc.