ILO introduces injury scheme for apparel workers
BI Report || BusinessInsider
Published: 21:35, 21 June 2022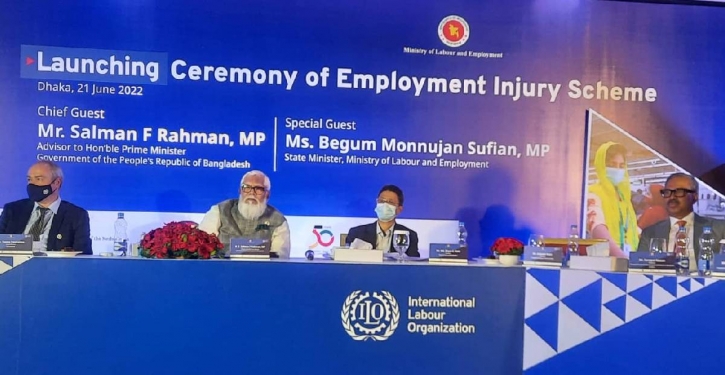 Business Insider Bangladesh photo
The International Labour Organisation (ILO) has launched an employment injury scheme as a pilot project for Bangladesh's apparel workers.
Salman F Rahman, Private Industry and Investment Adviser to the Prime Minister Sheikh Hasina, inaugurated the pilot project on Tuesday in Dhaka.
He said the injury scheme is the pillar of social protection for the workers as well as for economic growth.
The government has formed a labour protection fund centrally too, he pointed out.
The project will protect the workers and their families in case of any injury and death, Rahman added.
The adviser said he is not only cautious about the workers but also about the less privileged people.
The country director of ILO, Mr. Tuomo, said at the ceremony, "We need to double our efforts to implement the project."
He said Bangladesh has achieved remarkable success in ensuring workplace safety.
Regarding economic graduation of the country into a middle income nation, Johannes Schneider, head of development cooperation of the German Embassy, expressed his gladness that Bangladesh has accomplished the status in a shorter period.
ILO sets the international standard for the minimum benefits for the employment injury compensation. It requires earning related, periodical or monthly payments to victims of employment injury and occupational diseases. In case of disability, the payment should be at least 60 percent of the former wage multiplied by the degree of disability, said the CD of ILO.
In addition, in case of death, dependents like spouses or under-aged children would receive payment in the extension of at least 50 percent of the former wage of the victims.
Bas Blaauw, First Secretary of Netherlands Embassy highlighted the issue of ethical wage for the workers who are toiling to make the businesses sustainable.
Vice President of Bangladesh Knitwear Manufacturers and Exporters Association, Fazle Ehsan Shamim, said throughout the pilot project, it will be tested that the scheme will work for the betterment of the workers, indeed.
He said, it will take 3 to 5 years to implement the project on a comprehensive scale after the successful piloting.
The stakeholders of the sector, labour leaders and the officials concerned of ILO also joined the programme.
Speakers said the event has just created a history of the country's labour entitlements. Through the scheme, they would also come under a financial safety net.