NBR to hire private firms to run electronic fiscal devices
Asif Showkat Kallol || BusinessInsider
Published: 01:12, 23 May 2022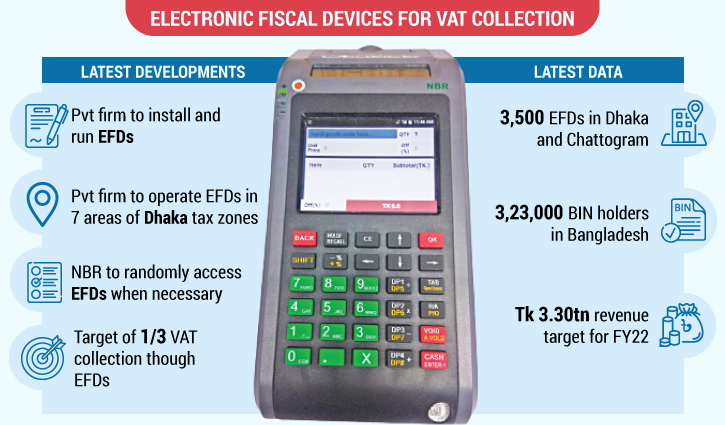 Business Insider Bangladesh illustrations
Asif Showkat Kallol
The government has decided to appoint private firms to oversee installing and running Electronic Fiscal Devices (EFDs) across the country to keep track of sales and other financial transactions at the retail levels to raise Value Added Tax, an official of the authority concerned said.
The fresh move of collecting VAT through private firms will be incorporated into the ensuing national budget, he said.
He said the seven areas of Dhaka tax zones will be handed over to the private firms to run the EFD operations in the city.
Officials said that the National Board of Revenue (NBR) will monitor the system, randomly accessing the EFDs when necessary.
"We have set a target to collect one-third of VAT through proper implementation of the programme by installing EFDs in the retail outlets," said NBR chairman, Md Rahmatul Muneem.
To encourage patrons of the retail outlets, the NBR has introduced a lottery every month through which winners would be awarded prizes.
But unfortunately, the customers are not taking EFD-generated invoices and most of the winners are not claiming their prizes, Muneem said.
The NBR has installed some 3,500 EFDs in Dhaka and Chattogram and the Board is set to assign private companies to popularise the EFD programme.
Muneem said the NBR has introduced a VAT inclusive price system to resolve the confusion among the consumers over the payment of ad valorem tax.
According to the NBR data, there is some 323,000 Business Identification Number (BIN) holders in Bangladesh.
The revenue authority collected Tk 2.04 trillion or 62 per cent of the total tax target for the fiscal year 2021-22 until March, leaving a large amount to be accomplished in the last quarter from April to June.
In the year-end quarter, the NBR will have to collect more than Tk 1.25 trillion in taxes in the forms of income tax, VAT and customs duty to fulfil its target.
The government has set a tax revenue collection target worth Tk 3.30 trillion for FY 22. The NBR has to collect Tk 1.05 trillion in income tax, Tk 1.28 trillion in VAT and Tk 956.52 billion in customs revenue.