India's wheat export to Bangladesh jumps 255% in FY22
BI Report || BusinessInsider
Published: 21:53, 13 May 2022 Update: 23:23, 13 May 2022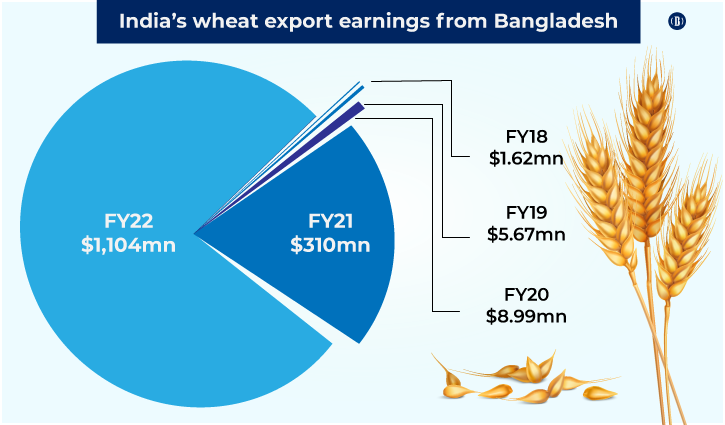 Graphics: Business Insider Bangladesh
Bangladesh remains the top destination for India's wheat exports, solidifying its position in FY22 with sizeable growths in both volume and value.
India's wheat export to Bangladesh increased by a massive 255 percent in value from April'21 to March'22 (Indian fiscal year), according to the country's commerce ministry data.
During this period, wheat exported to Bangladesh was valued at $1.10 billion, which was $310 million in the previous year. The volume of India's wheat export to Bangladesh grew by 241 percent during the period.
In terms of India's wheat export share, Bangladesh was again on top, grabbing more than 57 percent of the stake. It was 54 percent in FY21.
This huge increase in wheat from India can be attributed to Bangladesh opting for increasing trade with its large neighbour amid pandemic uncertainties. The Russia-Ukraine war recently accelerated the strategy, especially for essential commodities.
This was reflected in Bangladesh's import data. In the FY22, Indian wheat constituted 66 per cent of Bangladesh's total wheat imports, surpassing Russia.
Dependence on India for wheat might increase further for the Russia-Ukraine conflict, said the United States Agricultural Department (USDA) report, published recently.
According to a United States Department of Agriculture (USDA) report of 2021-22, India supplied approximately 2.8 million tonnes of wheat to Bangladesh.
According to the report, Bangladesh's annual consumption of wheat might be 8.5 million tonnes this year.
Meanwhile, eyeing opportunity amid global food grain scarcity induced by the Ukraine conflict, India is dispatching a trade delegation to nine countries for increasing wheat exports.
India's central government will send trade delegations to Morocco, Tunisia, Indonesia, the Philippines, Thailand, Vietnam, Turkey, Algeria, and Lebanon to discover ways to increase India's wheat exports.
In response to increased global demand for wheat, India has set a target of producing a record 10 million tonnes in 2022-23. India exported a record 7 million tonnes of wheat worth $ 2.05 billion in 2021-22.