Apparel exports to USA grow geometrically
Jannatul Ferdushy || BusinessInsider
Published: 20:03, 13 May 2022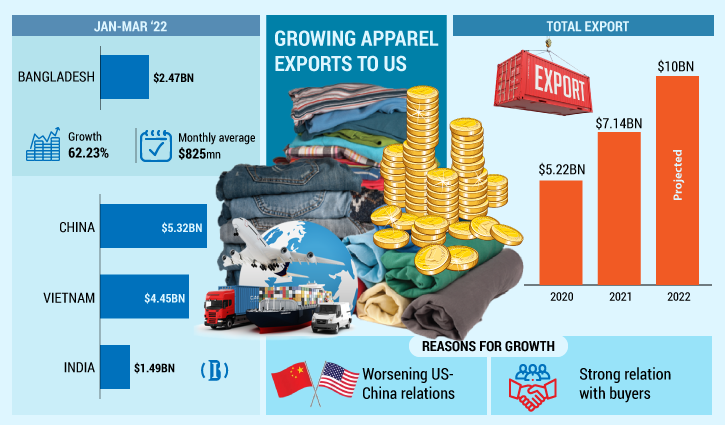 Graphics: Business Insider Bangladesh
Bangladesh's apparel export has risen by 62.23 percent year on year in the first quarter of the current year as the "Made in Bangladesh" brand has been well sought-after trademark across the globe.
According to the Office of Textiles and Apparel (OTEXA), USA, in the first quarter of January-March of 2022, apparel export jumped to $2.47 billion from $1.52 billion during the same period of 2021.
"The world is changing in a regular interval. So, we have to work to expand our businesses in both traditional and new markets. As always EU has been the largest market of Dhaka, we looked for other markets, too," Muhmmad Hatem, executive president of Bangladesh Knitwear Manufacturers and Exporters Association (BKMEA), told the Business Insider Bangladesh.
Because of its cold relation with China, USA has enhanced importing apparels from Bangladesh. The Sino-US relation is getting worse over the Russia-Ukraine war. Bangladesh may capitalize on such developments, Hatem said.
In 2020 Bangladesh's apparel export to the US market aggregated $5.22 billion which jumped to $7.14 billion in 2021 even in the pandemic.
Studying the monthly export trend, the exporters hope that apparel trade would earn more than $10 billion this FY from the US market. Recently, Bangladesh's monthly average export to the USA stood at $825 million.
"We have built a strong relationship with the USA buyers. Our supply chain also looks prospective. Therefore, we are quite optimistic about accruing more revenue from the US market," said Shahidullah Azim, vice president of BGMEA.
Meanwhile, during the first quarter, Bangladesh's prime peers Vietnam exported $4.45 billion, India $1.49 billion and China $5.32 billion to the US market, respectively.
During ten months of the current fiscal year, Bangladesh fetched $35.42 billion from the international market exporting trousers, denim, T-shirt, sweaters, blouses, underwear etc.