New projects being discouraged in next ADP
BI Report || BusinessInsider
Published: 15:38, 13 May 2022 Update: 16:50, 13 May 2022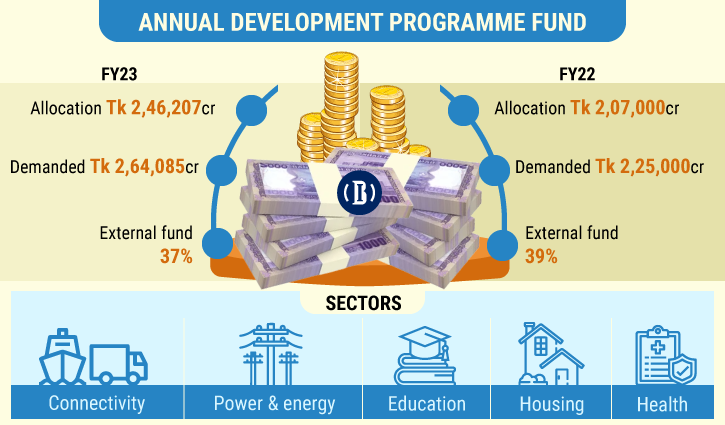 Graphics: Business Insider Bangladesh
The government has adopted a contractionary policy to trim public expenditure while allocating budget for the next fiscal year's development projects.
New projects are being discouraged and whatever projects are being proposed by various ministries and divisions are coming under strict scrutiny, officials said.
The government is taking stocks of supply-sides of funds battered by the infection of Coronavirus and the Russia-Ukraine war. The government is also considering the heated fuel oil market and disrupted supplies of food grains, an official of the planning ministry said.
The official is currently engaged in formulating Annual Development Programme (ADP) projects.
Because of the fund crunch, the ADP allocation for the next 2022-23 financial year is being lessened by Tk 17,878 crore than what was demanded by all ministries and divisions.
According to Planning Commission sources, the actual demand for funds by the ministries and departments for various projects was estimated at Tk 2,64,085 crore. However, considering various exogenous and endogenous factors, the Planning Commission finalized the draft ADP worth Tk 2,46,207 crore. This does not include self-financing of autonomous agencies and corporations. It will be presented to the National Economic Council (NEC) for final approval on May 17.
According to the planning ministry, 62 ministries and divisions, including transport, power, energy, education, and rural development sectors had requested for more allocations than they have been actually provided with.
In the current FY 2021-22, the government had planned to spend Tk 2,25,000 crore for Bangladesh's development works but later trimmed the budget by 7.87 percent to Tk 2,07,000 crore – which is still 5 per cent bigger than last year's revised annual development programme (RADP).
In the current fiscal's ADP, the government has funded Tk 1,37,000 crore on its own, while the remaining Tk 88,024 crore or 39 percent is supposed to come from international development partners.
For the next fiscal, foreign aid has been cut by 37.77 percent as the external sources are expected to provide Tk 93,000 crore for the ensuing national budget.
Meanwhile, the ministries have implemented 45.56 per cent of the project works under the RADP from July to March of the current fiscal year, the Implementation Monitoring and Evaluation Division (IMED) data shows.
Amid a dreary project implementation performance by different ministries, the government cuts the project aid (foreign aid) budget by 20 per cent in the RADP for the 2021-22 fiscal year.