Gazprom to begin drilling in Bhola gas field
Hasan Azad || BusinessInsider
Published: 22:19, 12 May 2022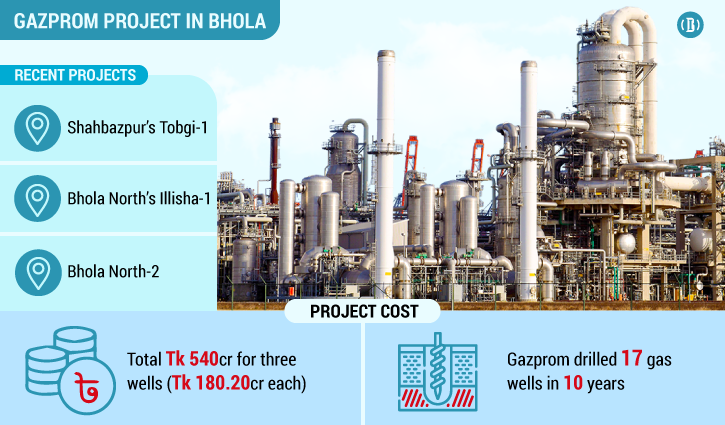 Graphics: Business Insider Bangladesh
Multinational company Gazprom is preparing to start the drilling project in Bhola gas field which the Russian energy giant obtained at a bloated price without any competitive bidding process.
The project site of Tobgi-1 exploration well at Shahbazpur in Bhola was handed over to Gazprom on March 5 for drilling, according to a Petrobangla official.
On May 27, 2021, Gazprom obtained the contract for drilling three wells in the Bhola gas field. Among these are exploration wells in Shahbazpur's Tobgi-1 and Bhola North's Illisha-1; and development well in Bhola North-2.
BAPEX is assisting Gazprom by providing geological information to determine the location of the well for drilling at Tobgi-1.
Petrobangla signed a strategic agreement with Gazprom last month, the official said, adding that Bapex also signed a memorandum of understanding (MoU) with the Russian energy giant to drill three the gas wells in Bhola.
Controversy over Gazprom contract:
The contract with Gazprom drew much criticism as the Russian majority state-owned energy corporation was awarded the project of drilling the three gas wells in Bhola at more than double the cost.
To put the costs in perspective, BAPEX spends a maximum of Tk 85 crore to drill one gas well. Drilling the three gas wells would have cost the government Tk 240 crore.
Whereas Gazprom will be paid a total of Tk 540 crore ($63.6 million) for the three wells. Gazprom is charging Tk 180.20 crore ($21.2 million) per well.
Moreover, the project was awarded to Gazprom under the law of Quick Enhancement of Electricity and Energy Supply (Special Provision) without any tender.
Gazprom had offered $65 million for the drilling works. However, a technical sub-committee was formed to review the proposal. After several rounds of discussions and bargaining, the subcommittee finalised a bid of $63.6 million and presented it to the proposal processing committee.
The price was unanimously approved at a PPC meeting chaired by the energy secretary on August 27 last year.
The reason given for the unusually high cost of drilling these three wells was that the gas pressure (reserve pressure) was high — 4500 to 5000 psi — in the Bhola area which is risky to drill.
In addition, Gazprom will need to procure six engineering services (DST, cementing, mud logging, wireline logging, testing and completion) from various locations, including drilling contractors.
Furthermore, the cost of transporting goods and manpower will also increase as sea and air traffic was not normal at that time due to the Covid-19 pandemic.
However, BAPEX officials dismissed the reasons given for the high costs and say the state-run energy exploration company would've procured the same engineering services but at a lower cost.
They also said the project doesn't need to bring in thousands of tonnes of goods from abroad or bring in hundreds of people for this work.
Experts in the matter admit that Gazprom has a lot of experience in the energy sector, however, the company conducts its Bangladeshi projects through a third party. State institutions in Bangladesh have complained at various times before that using third parties often fails to provide quality results.
In the last 10 years, Gazprom has drilled 17 wells in Bangladesh, including exploration and development ones.
Among them are two in Bhola, for which, the Russian company received an average of Tk 152 crore per well from Petrobangla.
Gas fields in Bhola:
The Island district of Bhola is considered to be one of the most promising sources of energy for Bangladesh. The Bhola gas field is situated in the Bengal Basin. Gas found in its geological structure is called stratigraphic. All other gas fields in the country have been discovered in the Surma Basin.
Bhola's two gas fields contain about two trillion cubic feet of gas reserves, which experts believe will increase further.
In 2009, BAPEX started extracting gas from Bhola's Shahbazpur gas field. Currently, gas is currently being supplied from this field to two power plants (225 and 35 MW) in Bhola and also to local industrial and residential areas.
At present, 50 million cubic feet of gas is being supplied to the national grid daily from 4 wells of this gas field. Another gas field named Bhola North has been discovered there.
Bypassing BAPEX:
These gas fields are owned by BAPEX, which is recognised as the most economical and successful oil and gas exploration operator in the country. It has all the information needed to drill the three wells awarded to Gazprom.
Gazprom is following BAPEX's Geological Technical Order (GTO) in the field. This means that Gazprom will drill at locations identified by BAPEX. Moreover, BAPEX already has two-dimensional and three-dimensional seismic surveys in those areas.
BAPEX also has the necessary equipment and manpower, including rigs, for drilling wells. The exploration company could've done the drilling works at a much cheaper cost of Tk 85 crore to drill each of these wells, including rig rent, manpower costs, third-party services, etc.
Sidestepping BAPEX in the project and hurriedly awarding it to Gazprom is highly questionable, energy experts said. They smell ill-intention in the whole process.