Machinery import surge a testimony to industrialisation, employment generation: Experts
Jannatul Ferdushy || BusinessInsider
Published: 21:50, 21 January 2022 Update: 23:20, 21 January 2022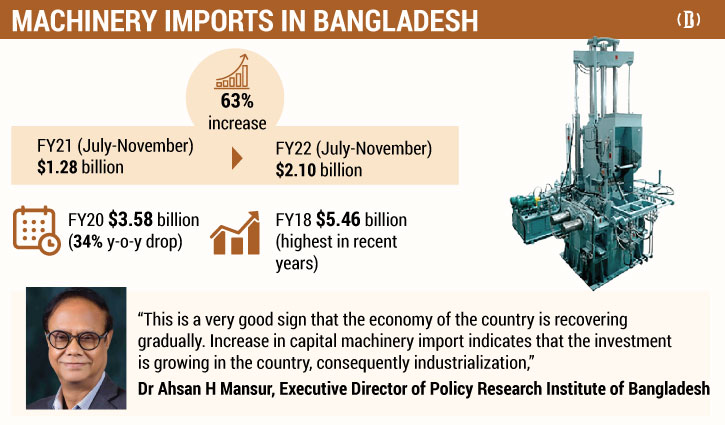 Graphics: Business Insider Bangladesh
In the first five months of the current fiscal year, imports of capital machinery have increased by 63 percent year on year (in July-November), amid Covid-19 pandemic restrictions.
According to Central Bank data, during July-November $2.10 billion worth of machinery have been imported as against $1.28 billion worth during the corresponding period of the last fiscal year.
The industry insiders think this import growth of heavy machinery indicates that the country gets back the momentum of industrialisation.
"This is a very good sign that the economy of the country is recovering gradually. Increase in capital machinery import indicates that the investment is growing in the country, consequently industrialization," Dr Ahsan H Mansur, Executive Director of Policy Research Institute of Bangladesh told Business Insider Bangladesh.
He said bringing in machinery into the country is also proof that employment opportunities will be swelling up.
"However, the government has to be extremely cautious about any money laundering. The dishonest businesses drain money taking the advantage of high cost goods import," he pointed out.
Overseeing such manipulation is very difficult but the government should do it sincerely as there are a number of mega projects going on and dozens are in the pipeline. Therefore, there is a chance of siphoning off money, experts said.
However, a big fall in import trade was registered in the FY 2020 when the machinery imports plunged by nearly 34 percent year on year to $3.58 billion. Economists held Covid-19 pandemic responsible for this. But the capital machinery imports had reached 5.46 billion in FY 2018, the highest in recent years.
"As the rules of the pandemic were relaxed, machinery imports went up. Besides, industrialisation is taking place in the special economic zones. If the situation stays normal, import of heavy machines will surpass the target," Muhammad Hatem, Executive President of Bangladesh Knitwear Manufacturers and Exporters Association (BKMEA) told the Business Insider Bangladesh on Tuesday.
However, he sees better prospects for Bangladesh as the large economies like the US and the European Union are ready to re-grow subject to taming of the Omicron variant.
In 2017 fiscal year imports stood at $4.85 billion, in '18 $5.16 billion, in '19 $4.75 billion and '21 $4.33 billion respectively.
When the pandemic started to affect investment and businesses in the last quarter of FY 2020, many struggled hard to continue production and finally some of them dropped their planned expansion.
To achieve the targeted 7 to 8 percent GDP, investment and industrialisation must take place accordingly, experts say.