CEO optimism hits 10-year high: PwC survey
BI Report || BusinessInsider
Published: 11:54, 17 January 2022 Update: 20:21, 17 January 2022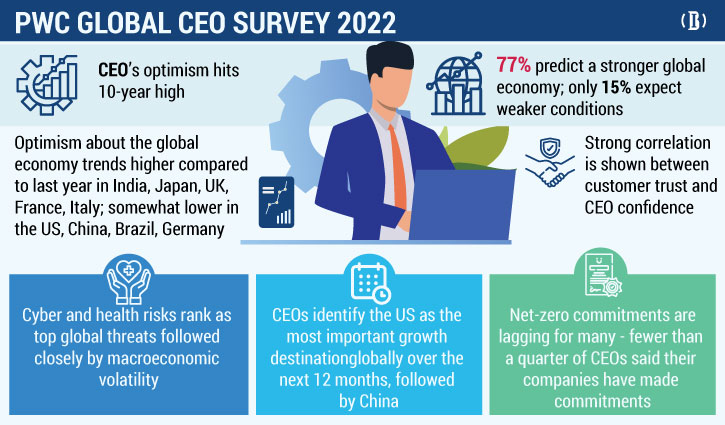 Photo illustration: Business Insider Bangladesh
CEOs continued to face pressure generated by the ongoing Covid pandemic and market conditions such as rising inflation, supply chain disruptions and the 'Great Resignation' in parts of the world.
Despite the array of shifting headwinds, CEOs are the most optimistic they have been in 10 years about the prospects for a stronger economy in the coming year, according to PwC.
More than three-quarters of CEOs predict the global economy will improve, while only 15 percent expect worsening conditions.
CEO optimism for 2022 is a tick higher than the 76 percent optimism level from a year ago and fully 54 points higher than 2020, when more than half (53%) of CEOs predicted a declining economy.
These are findings from PwC's 25th Annual Global CEO Survey, which polled 4,446 CEOs in 89 countries and territories between October and November 2021.
While there is general optimism among CEOs for economic growth in 2022, the perspective varies widely across individual countries and territories. Among the largest territories, optimism is highest in India, where 94 percent of CEOs anticipate global growth in the coming year, up from 88 percent last year.
Optimism is also trending up solidly among CEOs in Japan (plus 16 points to 83 percent, from percent last year), and is modestly higher in the UK (up five points to 82 percent). Italy and France saw large increases in CEO optimism, perhaps as a result of stronger than expected economic recoveries.
CEO optimism in Italy reached 89 percent, up 18 points from a year ago, while France experienced the greatest increase in CEO optimism, soaring 25 points to 85 percent.
At the other end of the spectrum, CEO optimism about the global economy declined most notably in the US, down 18 points to 70 percent and was also slightly down in Brazil (dropping seven points to 77 percent) China (down nine points to 62 percent) and Germany (down four points to 76 percent), perhaps as inflation and supply chain constraints became more of an issue.
The survey report finds while US CEOs may be less sanguine on the global economy, they are comparatively confident about their own companies' growth prospects, with 40 percent extremely confident about achieving revenue growth in 2022. India CEOs are similarly confident in their companies' outlook.
Bob Moritz, Global Chairman of PwC said: "While the ongoing pandemic and emergence of new variants cast a shadow over the year, the high level of CEO optimism we found speaks to the strength and resilience of the global economy and the ability of CEOs to manage through uncertainty. There is nothing "normal" about the world we are working in, but we are getting used to it. We are seeing differences in confidence among countries, and there is no shortage of challenges to navigate, but it is encouraging that CEOs we spoke with on the whole feel positive about 2022."