Lockdown not a solution, mass awareness the key: FBCCI president
BI Report || BusinessInsider
Published: 13:30, 12 January 2022 Update: 19:06, 12 January 2022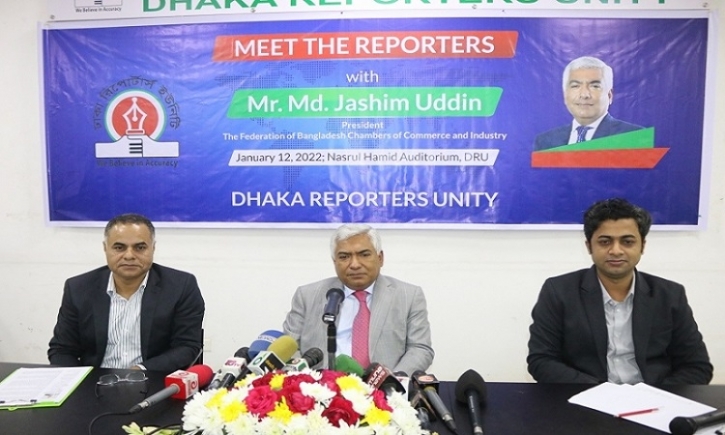 The Federation of Bangladesh Chambers of Commerce and Industry (FBCCI) President Md Jasim Uddin was addressing a Meet the Press programme at Dhaka Reporters' Unity auditorium on, January 12, 2022. Photo: Business Insider
FBCCI President Md Jasim Uddin has called upon the concerned authorities to raise mass awareness as an alternative to lockdown to curb the spread of coronavirus in the country.
"Lockdown is not an ultimate solution. Furthermore, the situation is not so bad. The country's overall economy will incur a huge loss if the lockdown is imposed now," the FBCCI president said on Wednesday.
The Federation of Bangladesh Chambers of Commerce and Industry (FBCCI) president was addressing a Meet the Press programme held at Dhaka Reporters' Unity auditorium on Wednesday.
The countries that have imposed much more lockdowns have experienced more losses, Jasim Uddin, vice chairman of the Bengal Group, said.
He also urged people to abide by the rules and regulations imposed by the government to prevent the third wave of the coronavirus epidemic.
Responding to questions the FBCCI Chief said that the country's export industry has started getting a lot of orders from foreign buyers and the trend will face disruption if the lockdown is imposed now.
In his speech, the FBCCI president has identified the lack of adequate infrastructure as the main obstacle on the way of foreign investment.
He, however, sees the government initiated development projects including Padma Bridge, Karnafuli Tunnel, Metrorail and 100 economic zones as investment-friendly infrastructures which will attract foreign investment.
He also urged concerned authorities in the banking sector to lend more to small and medium enterprises to boost the country's economic growth.
He observed that Bangladesh will face many challenges to protect local industries after the LDC graduation and said it is now important to ensure Free Trade Agreements (FTA) with different countries in order to meet the challenges.
The six-block­­ - Regional Comprehensive Economic Partnership (RCEP), European Economic Union, USA, EU, UK and African Continental Free Trade Agreement - owns around 90 percent share of the world trade and thus the FTA can be done with it, said Jashim Uddin.
He emphasised on increasing the capacity of various ministries, including the Ministry of Commerce and Industry, to meet the post-LDC challenges.