Exports of engineering products double during July-Nov
Jannatul Ferdushy || BusinessInsider
Published: 21:47, 7 December 2021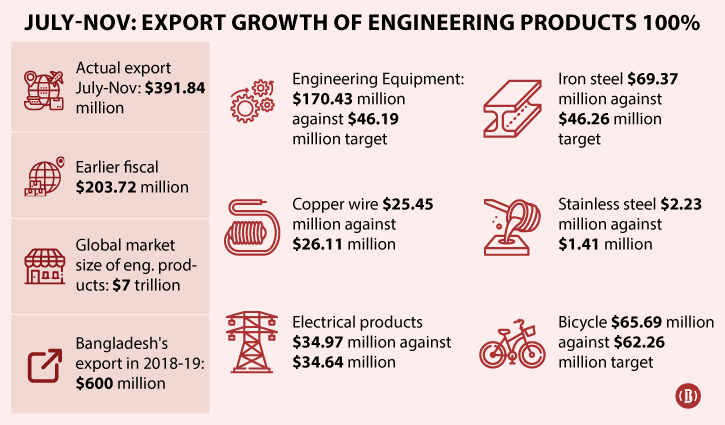 Photo illustration: Business Insider Bangladesh
Bangladesh's engineering and electronic products shipments have increased by 92.34 percent during July-November of this fiscal year thanks to waning of the Covid-19 pandemic and subsequent withdrawal of lockdown.
The exports of these products were worth $391.84 million in the first five months of '21 fiscal against $203.72 million in the corresponding period of the earlier fiscal.
To look at the breakdowns, iron steel export has increased by 53 percent, copper wire 70.12 percent, stainless steel ware 84.30 percent, engineering equipment 232.87 percent, and electrical products 8.30 percent and bicycle 31.38 percent, respectively.
"I believe that withdrawal of the lockdown that was imposed to tame covid- 19 pandemic attributed to raise the export earnings. Though, the export is still lower than the pre-covid level, I hope it will rise up to $500 million in end of the fiscal year," Abdur Razzak, President of Engineering Equipment Manufacturers and Exporters Association (EEMEA) told Business Insider Bangladesh, on Monday.
Earlier, the sector fetched more than $600 million in pre-covid year of 2018-19 from the $7 trillion international market, he said.
However, the trade leaders sought policy support of the government to adopt modern technologies to boost productivity and production, as well. They want to build complaint factories to attract more international buyers.
He said, due to policy support, Bangladesh fetches $ 34 billion a year from a relatively small garment market worth $6 trillion.
"We can fetch more than $34 billion. Unfortunately, in spite of having huge demand, the engineering sector cannot earn even $1 billion."
The Engineering Equipment fetched $170.43 million against $46.19 million target in July-November '21, iron steel $69.37 million against $46.26 million target, copper wire $25.45 million against $26.11 million, stainless steel $2.23 million against $1.41 million, electrical products $34.97 million against $34.64 million, and bicycle $65.69 million against $62.26 million target, respectively.
Bangladesh's merchandise shipment was worth $4.04 billion in November 2021.